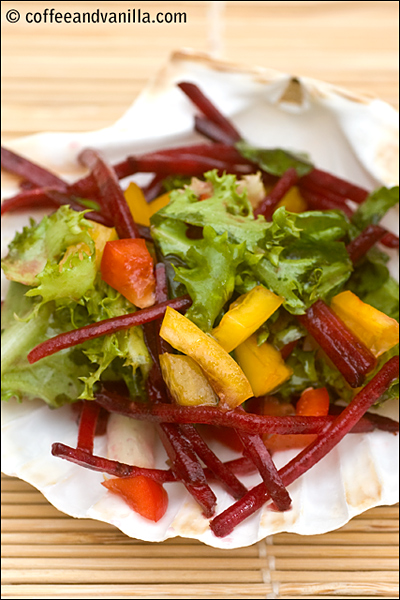 INGREDIENTS
4 handfuls of mixed salad leaves
1-2 shredded beetroots (¾ cup)
1 sweet red pepper (diced or sliced)
1 sweet yellow pepper (diced or sliced)
for sweet & sour vinaigrette
juice of 1 lemon
3 tbs olive oil
3 tbs clear honey, maple syrup or golden syrup
METHOD
Combine all ingredients for vinaigrette on the bottom of salad bowl.
Add leaves, beets and peppers, mix well and enjoy.
Makes 4 servings.
NOTES
Beetroot can be replaced with shredded carrot.
Taste good on a side with Fried & Baked Chicken in Breadcrumbs or Japanese Chicken Katsu Curry.
In some supermarkets you can get ready mix of salad leaves and shredded beetroot.
More salad dressing ideas:
Classic honey and mustard salad dressing recipe by Greedy Gourmet