[adapted from Stella's Murphy "Smoothies!"]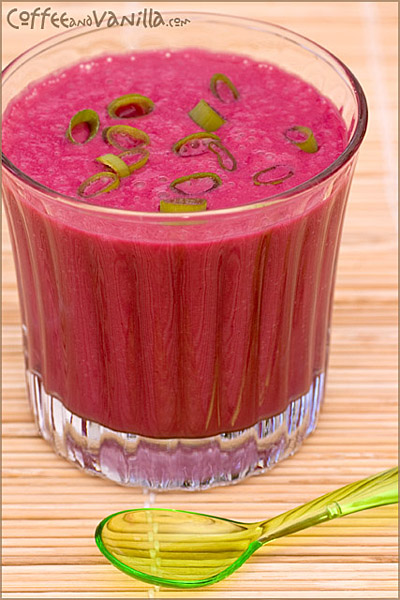 INGREDIENTS
500g cooked and peeled beetroots
500g natural yogurt
400 ml apple juice
4 garlic cloves – optional
some chives or green part of spring onion for garnish (chopped) – optional
EQUIPMENT
blender
METHOD
Place all ingredients except chives in a blender and process until smooth. Put to the fridge for couple of minutes to cool it down, share to the glasses, sprinkle optionally with chives.
Make 5 servings.
Try different proportions that suit your taste, often I use 500g beetroots, 1000g natural yogurt and 250ml apple juice, it makes 5-6 smoothies.
Skip garlic, chives and juice, use: 500g beetroots, 500g natural yogurt, cup of fresh milk and 2 tbs golden caster sugar to make 4 smoothies that even kids will love.