INGREDIENTS
flour for the working surface
1 cup breadcrumbs
200 – 250 g unsalted butter
hot water to fry pierogi
for the filling
for the dough
7½ cups plain flour
4 eggs
2½ tsp salt
6 tbs soured cream
about ¾ cup lukewarm water
EQUIPMENT
wok or large frying pan
medium pot with cover to cook spinach
rolling pin
medium non-stick frying pan to fry pierogi
wide glass or round (9 cm) cookie cutter to cut out circles from the dough
small saucepan to prepare butter and breadcrumb mixture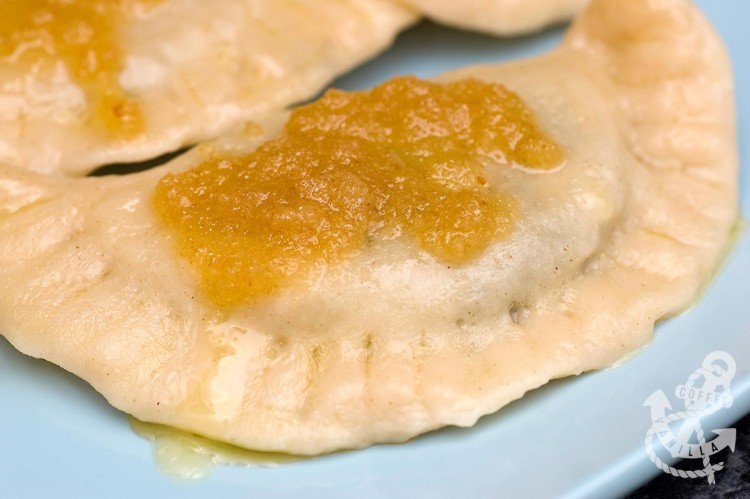 METHOD
To prepare filling place spinach with half a cup of water in a pot and cook covered until spinach is defrosted, remove cover and cook some more until there is no more water. Leave aside.
In a wok fry chopped mushrooms on oil, until there is no more water, add chopped onions and fry some more, until onions are translucent. Stir in spinach, season with Vegeta, garlic granules and black pepper and cook some more until mixture is as dry as possible. Remove from fire, stir in grated cheese and leave aside.
To prepare dough combine eggs with salt and soured cream. Gradually add water and flour. Knead until smooth.
Take portions of the dough and roll them out with rolling pin until about 3 mm thick. Cut out circles with cutter or glass. Stretch each circle a little bit in your fingers.
Place some of the filling in the middle of the dough circle, bend in half, seal the edges with your fingers and then with the fork. Place on floured tray until you are ready to fry them.
To fry pierogi place as many as you can fit in a frying pan, cover them with boiling water and fry on medium fire until all water is gone, turning them once in meantime. Move to the serving plate.
Repeat the same with the rest of pierogi. You may add a little bit of butter to the water, so pierogi will not stick together during frying.
In a small saucepan melt butter, add breadcrumbs and heat over low fire until mixture is bubbling. Pour over prepared pierogi and serve immediately.
Makes about 60 – 65 medium pierogi, 8 – 10 servings.
NOTES
Once you pour butter and breadcrumbs over pierogi they won't stick together, you can place them in a container and store in a fridge for the next day or two.
Use less butter and breadcrumbs for healthier, lower in calories version.
This recipe for pierogi in not a traditional one… The most popular Polish pierogi have meat, mashed potato or sour cabbage and wild mushroom fillings. They are also cooked in a large pot of water rather than fried in like I did. Spinach, mushroom and Cheddar filling is not something Polish people usually make. I made it this way to please tastes of my family.