I realize that this almond & sultana oatmeal definitely is not going to be as popular as my ultimate beetroot brownies I posted recently but it will give you healthy start to a busy day…
INGREDIENTS
½ cup oats cooked in 1 cup boiling water (a bit more for stove cooking)
splash or two of milk
1 heaped tbs sultanas or raisins
2 tbs toasted almond flakes
½ tsp flax seeds / linseeds – optional
pinch of sea salt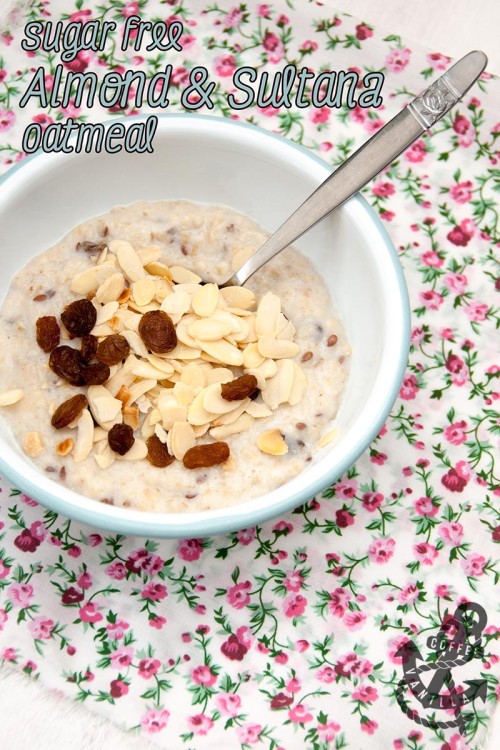 METHOD
Cook oats with water (I prefer stove cooking but if you are in hurry use microwave).
Transfer to the serving bowl and add splash of milk, flax (if using), sultanas and almonds.
Season to taste with a bit of salt.
Stir and enjoy while still warm.
NOTES
To toast the almond flakes simply place them on a frying pan and heat, constantly shaking, until they are browned and fragrant.
If you don't have sultanas or raisins on hand, you can use some dried (and chopped) apricots instead.
More sugar free recipes: Sugar-Free Pumpkin Seed & Cranberry Breakfast Porridge, Sugar-free Acacia Honey & Almond Granola, Sugar-Free Minty Blueberry Milkshake, Sugar-Free Honey Mango Milkshake and Cranberry, Banana and Green Tea Smoothie.
And if you are looking for more yummy breakfast oatmeal ideas, check out Oatmeal-Rhubarb Porridge from Sunny Little Kitchen or Slow Cooker Cinnamon Apple Oats from Recipes From A Pantry.
I'm submitting this recipe to the Breakfast club co-hosted by Andrea at Made with Pink & Sarah at Maison Cupcake and originally started by Helen at Fuss Free Flavours.