Lavender has always reminded me of soaps and scents for the wardrobe so I would never think of using it in cooking… until I went to France. Since then I always meant to find food grade lavender (thank you Solange for the tip), I even planted some but haven't got any flowers yet. Recently on my quest to use chemical free cosmetics I accidentally spotted it in my local health store and decided to recreate flavour from the Eurostar train :)
INGREDIENTS
500 g chilled puff pastry
16 flat tsp of apricot jam or conserve
2 x 300 g tins of sliced peaches (drained) or some fresh ones
egg white (lightly whisked) – optional
16 pinches of dried lavender (food grade)
EQUIPMENT
baking paper
whisk
brush
rolling pin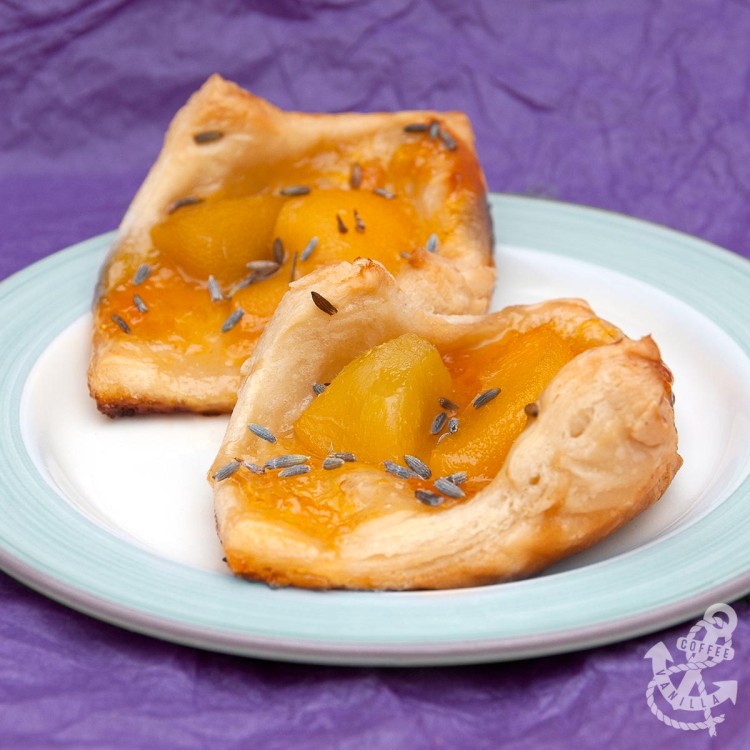 METHOD
Divide puff pastry into 16 even squares.
Roll out each piece until about ½ cm thick, place on baking tray lined with baking paper.
Top middle of each square with 1 flat teaspoon of apricot jam.
Arrange 2 peach slices on the top of each square, leaving out the edges.
Optionally brush everything, especially the edges, with egg white.
Sprinkle with a bit of lavender.
Place the tray in the oven preheated to 200°C (392°F).
Bake until the pastry is golden brown, about 25 minutes.
Makes 16 mini pastries.
NOTES
Note that real, food grade dried lavender is not very lilac, but rather greyish – greenish – yellowish.
I skipped lavender on couple of the pastries for my husband who is not big fan of this herb and they tasted delicious as well.