Chocolate and orange flavours go so well together, everyone knows that and I must admit it's one of our favorite combos, like in this Death by Chocolate cake or ice cream dessert with Madeira Cake & Grand Marnier we made in the past.
This is modified version of our classic zebra cake recipe that we have baked more than couple of times in the last weeks. It's our family favorite at the moment, therefore I made it when my sister Jola was visiting and then again when our friends Sylwia & Dan visited with Asha who came all the way from India… you can read more about her journey on Sylwia's blog.
The very next day my girls asked me to make it once more, I did not refuse. And as tomorrow there is Children's Day I will be probably baking it for them again… although we may experiment with some different flavours this time, for a change. Either way I can safely say this recipe has already became tradition in our family and for this reason I will be submitting it to the Inheritance Recipes that we host together with Solange. Do come and join us… we would love to hear about your favorite family recipes (!)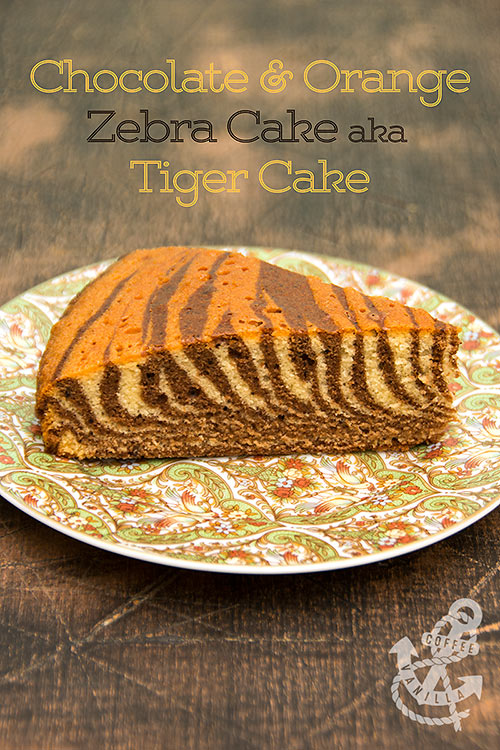 INGREDIENTS
3 cups plain flour (sifted)
1 bar (250 g) unsalted butter (melted)
½ cup olive oil
½ cup orange juice + a bit more just in case (freshly squeezed would be the best but store bought juice will work as well)
3 cups golden caster sugar
10 eggs (egg whites separated)
2 tsp vanilla extract
1 tsp orange extract
zest of 1 orange or 1 tsp more of orange extract
4 tsp baking powder
5 tbs cocoa powder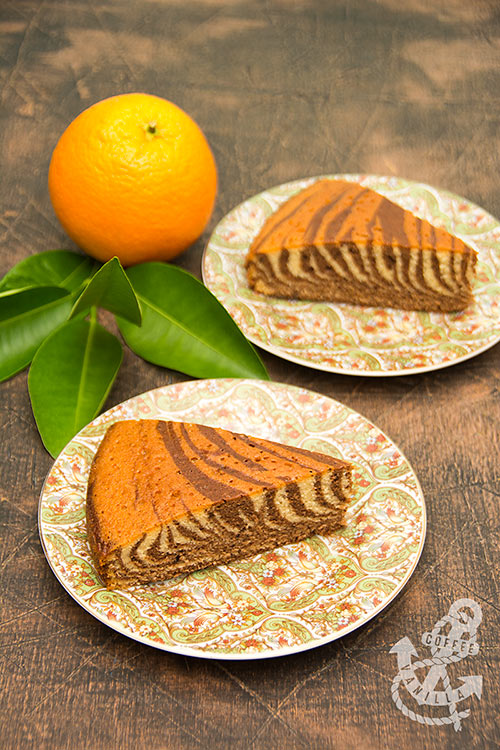 EQUIPMENT
two 9" (22,8 cm) round non stick cake tins with removable trays (lined with baking paper)
wooden skewer
sieve to sift the flour
whisk
two large, best same size mixing bowls
one smaller mixing bowl
fine grater or orange zester (if using zest)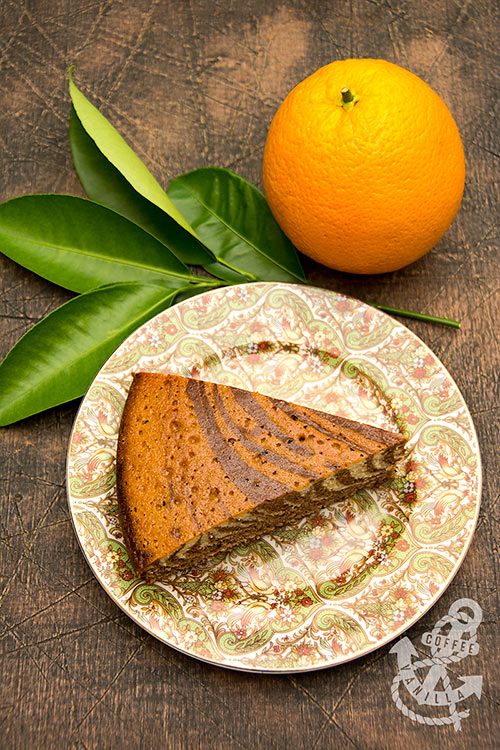 METHOD
Preheat oven to 180°C (356°F).
Line baking tins with paper and brush with some of the melted butter.
In one bowl beat the egg whites until stiff and leave aside.
In second bowl place dry ingredients: flour, baking powder, sugar. Do not add cocoa powder yet.
In small mixing bowl mix butter, oil, egg yolks, juice, vanilla extract, orange extract and zest, if using.
Add them gradually to the bowl with dry ingredients and mix until well combined.
Add also previously whisked egg whites.
Move half of the dough into another bowl (same size) to combine with cocoa powder. If it is too thick (comparing to the yellow batter)… add a bit more juice.
Leave the remaining half uncoloured.
Pour some of the yellow cake batter into middle of each tin, then top with brown batter making sure it is more or less the same amount and it's poured into the middle. Repeat those steps until no more batter is left.
Bake for about 60 minutes. Check with the skewer if the middle of the cake is ready.
Remove from the oven.
Let them cool down completely before sharing.
Makes 2 large cakes / 20 – 24 servings.
TIPS
When pouring batter into the tins, use smaller portions of each colour for thinner stripes.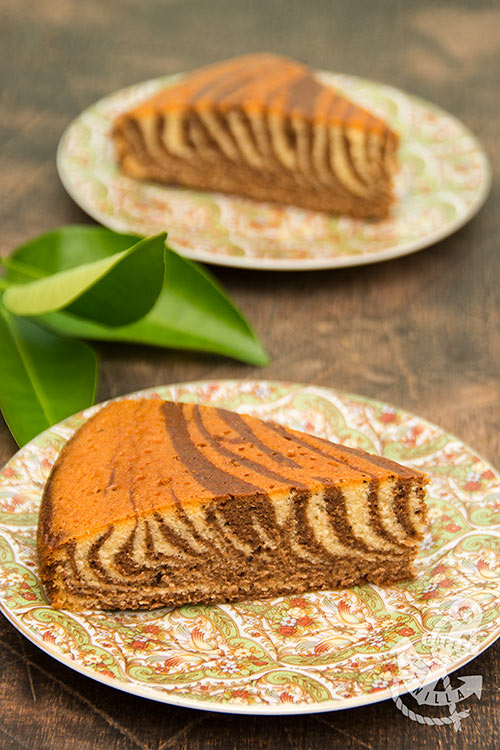 This cake stores quite well, especially when wrapped in cling film or aluminum foil to prevent drying out. It is perfect for all kinds of occasions: picnics, kids' parties, lunchboxes or simply to have a slice before bedtime with a cup of milk.
NOTES
For more chocolate and orange flavoured recipes take a look at Emily's Chocolate Orange Macarons, Elizabeth's Chocolate Orange Camp-fire Cake, Raw Chocolate Clementine Cheesecake, White Chocolate and Clementine Bombe, Helen's Terry's Chocolate Orange Brownies or Choclette's Cardamom & Orange Chocolate Cupcakes.
I'm adding this to the Inheritance Recipes link-up that we co-host together with Solange of Pebble Soup. May / June Inheritance Recipes is hosted by us, please come and join us, share your inherited recipes!