[Post sponsored by Volkswagen.]
Those colourful doughnuts are healthier than regular ones as they are baked not fried. The fact that
doughnuts are rather sturdy (comparing to other desserts) and already portioned, make them perfect for road trips with family and friends.
They are super easy to prepare (no sugar craft skills needed) and would also make a great addition to any parties, bake sales or even car trips.
We made them especially for Volkswagen so if you are looking for more car and road trip themed recipe inspirations, take a look at the Food Bloggers for Volkswagen Pinterest board.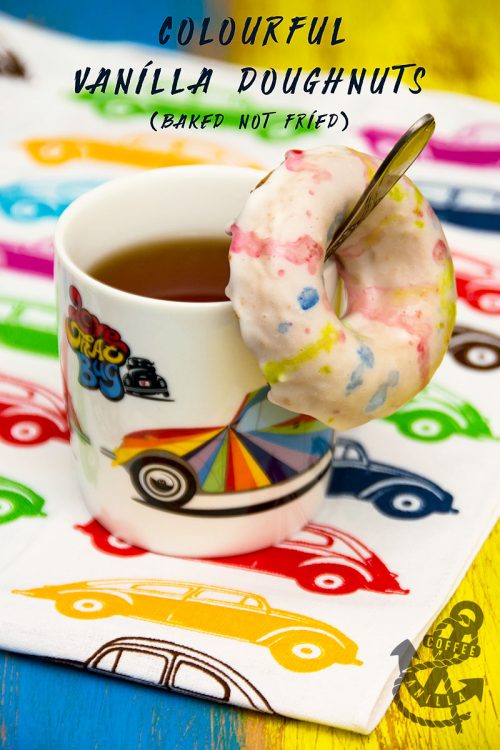 INGREDIENTS
for the doughnuts
2 cups plain flour (sifted)
¾ cup golden caster sugar
2 tsp baking powder
1 tsp fine salt
¾ cup full fat milk
2 eggs, 3 if small
3 ½ tbs of unsalted butter / about 50 g (melted) + some more (about 1 tbs for greasing the tins)
for the icing
1½ cup icing sugar (sifted)
3 tbs of milk
½ tsp vanilla extract
for the topping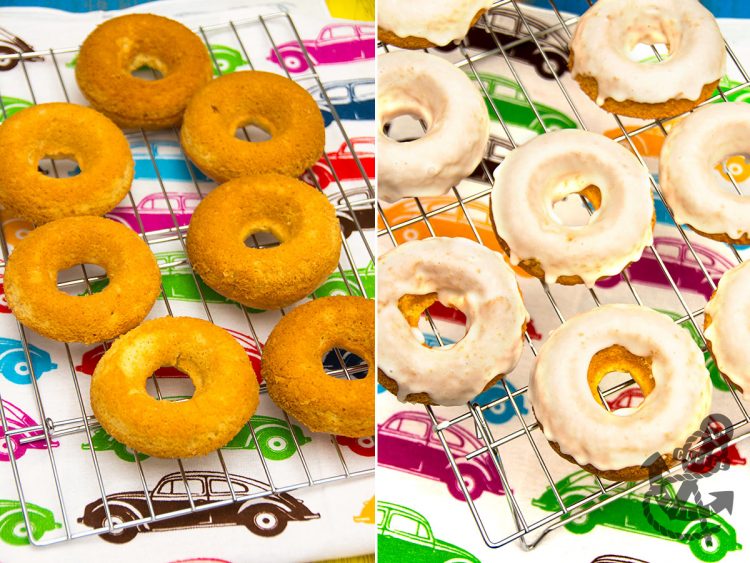 EQUIPMENT
doughnut pans
silicone pastry brush
large mixing bowl
small mixing bowl
flat bowl / deep plate for dipping in icing
piping bag or any plastic bag with pointy corner
cooling racks – optional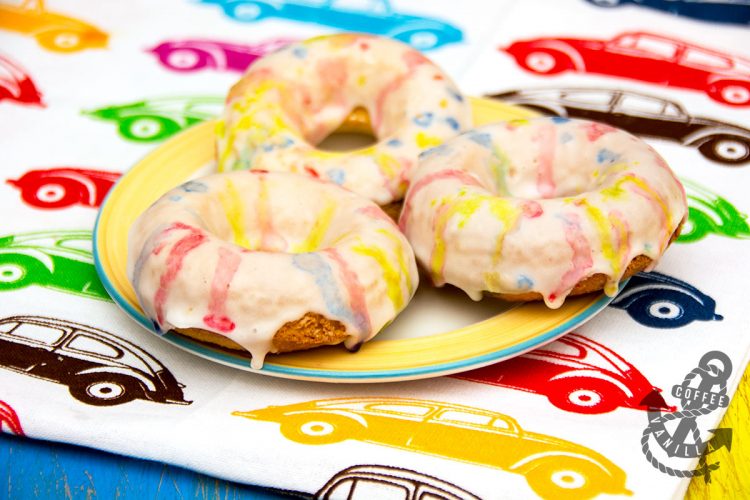 METHOD
Preheat oven to 220°C (425°F).
In a large mixing bowl combine all dry ingredients.
Melt the butter and use some of it to brush the tins.
In a small mixing bowl lightly beat the eggs, add milk and the rest of melted butter.
Add this to the bowl with dry ingredients and stir until batter is well combined.
Transfer the batter into piping bag – depending on the size of the bag you may need to refill the bag as you go.
Fill about 2/3 of each doughnut cavity (you will need about 3 tbs of batter for each doughnut).
Place trays in preheated oven and bake for about 10 minutes.
Remove from the oven and turn the trays over the cooling rack, tap to remove the doughnuts.
Once the doughnuts have cooled down completely prepare the icing by mixing all ingredients together.
Dip doughnuts in icing, one by one, place back on the cooling rack to drip off icing excess.
Before the glaze will set splash them with food colouring.
Leave aside for the glaze to set.
Makes 12 regular sized doughnuts.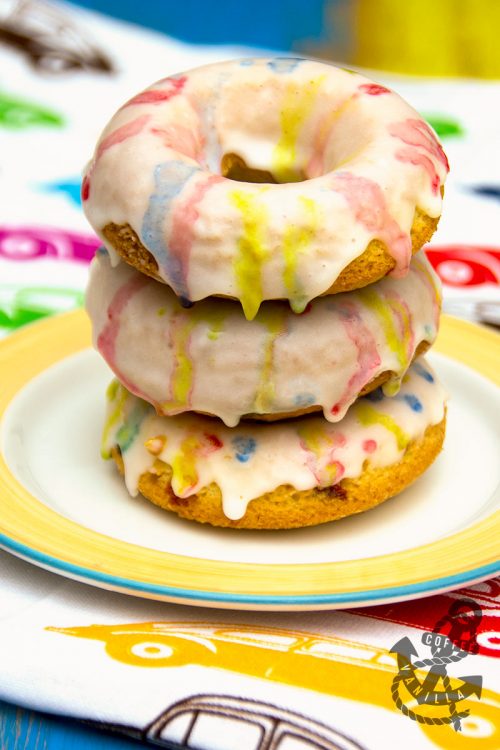 TIPS
Add a bit more milk if the batter is too thick and sticky to mix well.
Baked doughnuts taste best the same day but can be easily prepared night before and then glazed on the day.
Optionally skip the icing sugar and dip doughnuts in melted chocolate as a glaze.
NOTES
For more car themed goodies, why not try the Food Bloggers for Volkswagen board on Pinterest for more creative ideas from different bloggers about the topics cars & Volkswagen. 
DISCLOSURE: This post has been sponsored by Volkswagen. All opinions expressed here are our own and we retained full editorial control.