Yule log cake is generally a Swiss roll covered in chocolate and decorated to pretend wooden log.
Here is our attempt making one using chocolate sponge, orange buttercream and topped with fondant holly berries and leaves, mushrooms and caterpillar made by my girls.
There is also icing sugar snow on the last image…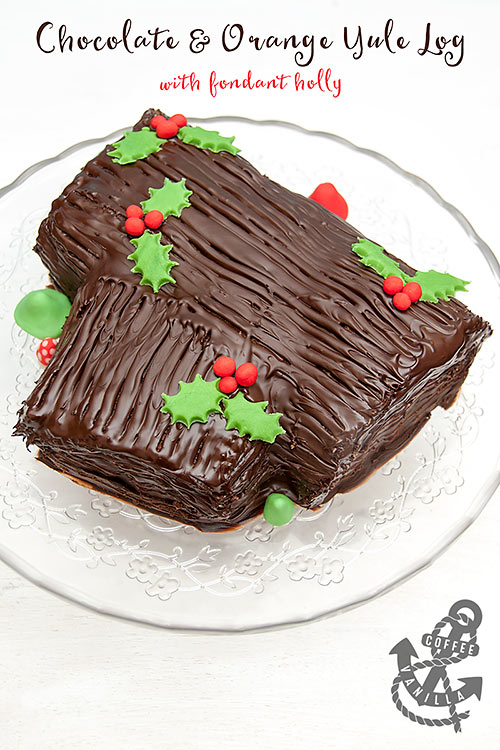 INGREDIENTS
for the chocolate sponge cake
1 cup egg whites and ½ cup yolks, about 5 large eggs
1 cup golden caster sugar
1 cup plain flour
pinch of salt
½ tbs baking powder
5 tbs cocoa powder
for the orange buttercream filling
125 g / half a bar butter (softened)
½ cups icing sugar
zest from one large orange + 1 tbs orange juice
for the topping
200 g bar of chocolate (we used half of dark chocolate and half milk chocolate)
fondant decorations
icing sugar (as snow) – optional
EQUIPMENT
large baking tray (like the one that comes with the oven) lined with baking paper
cling film
double boiler (metal bowl and pot)
mixer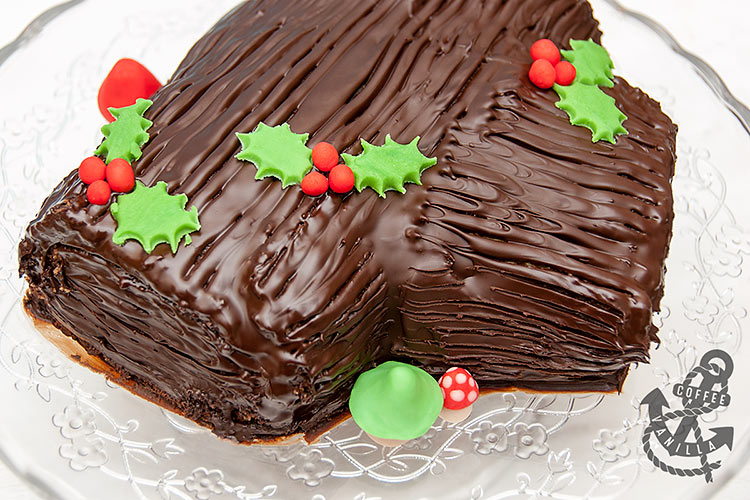 METHOD
To prepare sponge cake beat in a mixer egg whites with salt until stiff, add sugar and beat some more.
Stir in also yolks.
In a small bowl combine baking powder, cocoa powder and flour and gradually add it to the egg mixture only until well mixed.
Pour it into tray lined with baking paper, make even with spatula and bake in preheated oven to 180°C (356°F) for about 15 – 20 minutes.
Once the cake is cooling down prepare the buttercream by mixing all of the ingredients together until smooth and fluffy.
Place cake on the cling film, top with buttercream, roll, wrap in cling film, place on some hard, even surface such as chopping board and place in the fridge overnight.
Melt chocolate bar oven double boiler, place cake roll on the cake stand, cut off piece of the roll (at an angle) and place on the side to make a branch.
Top everything with melted chocolate.
Wipe off any chocolate excess with paper towel, make log like pattern with a fork, finish off by topping with fondant decorations and optionally sprinkling with some icing sugar.
Again, place in the fridge to let chocolate topping set completely.
Makes 10 – 14 servings.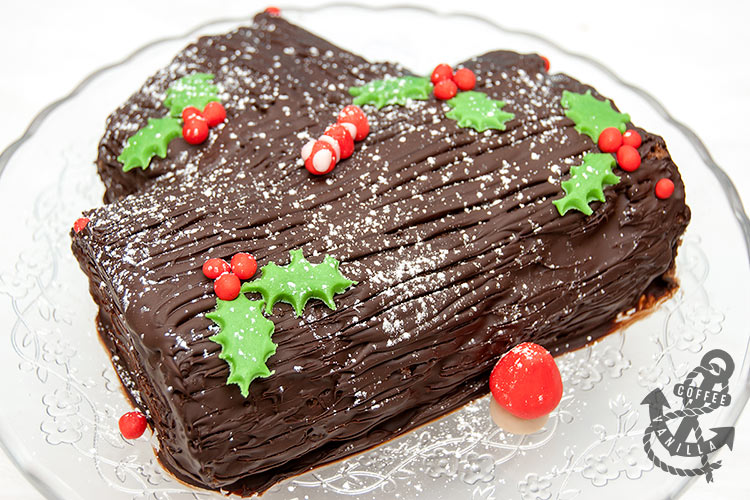 NOTES
Fondant icing decorations can and even better if they are made couple of days in advance so they will get chance to dry out properly.
More recipes for Christmas and New Year.
If you are looking for more Swiss roll recipes, check out Matcha Chocolate Roll from Tin & Thyme or Apple & Chocolate Spelt Swiss Roll from Fab Food 4 All.