Mazurek or Mazurki in plural are traditional Polish Easter pies made of shortcrust topped with various glazes and then decorated with dried fruits, nuts or icing.
This particular kind of glaze (kaymak) is usually made out of cream and sugar with addition of different flavours. I made it easier for myself and used condensed milk instead.
There are also Mazurki made with chocolate, meringue or even peanut butter glazes.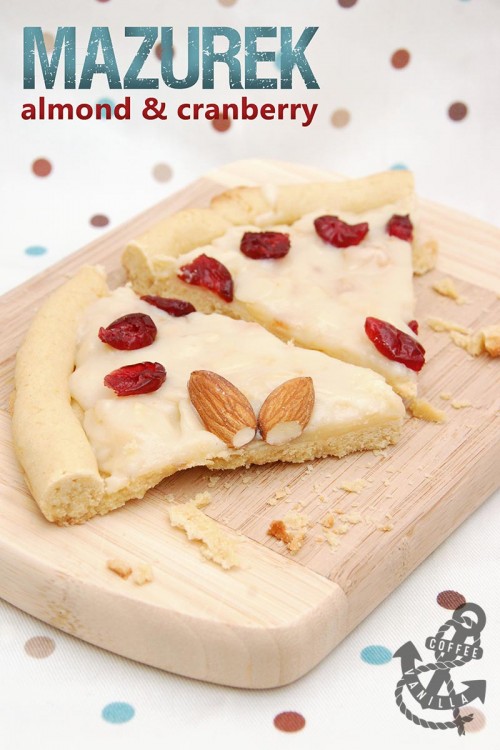 INGREDIENTS
for the shortcrust base
1 kg plain flour
500 g vegetable shortening (softened)
1½ cup golden caster sugar
3 egg yolks
1 whole egg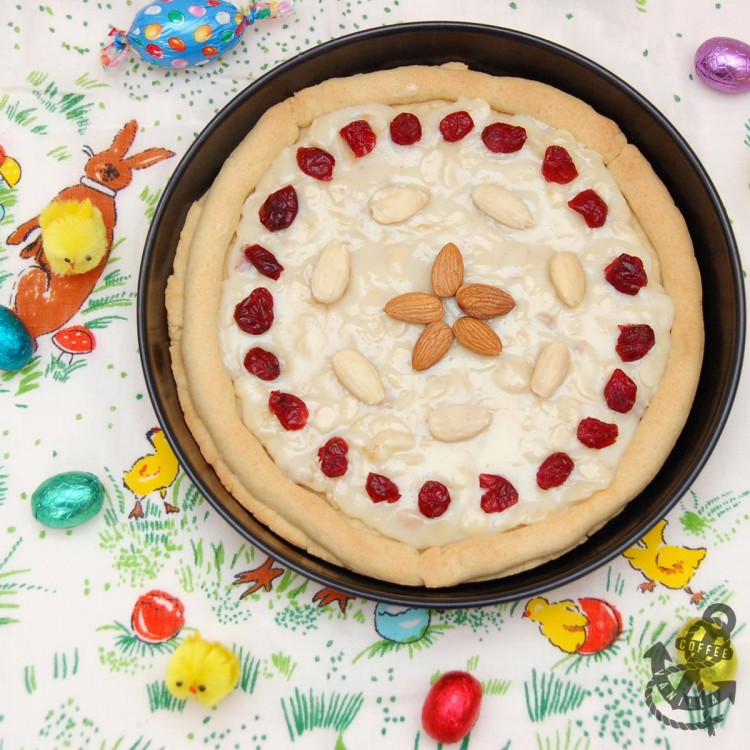 for the kaymak glaze
3 cans of sweetened condensed milk – I used Carnation (397 g each)
150 g pack of almond flakes
1½ tsp quality almond extract
6 tbs thick cranberry marmalade – optional
for the topping
150 g of mixed almonds (peeled & unpeeled)
150 g of dried cranberries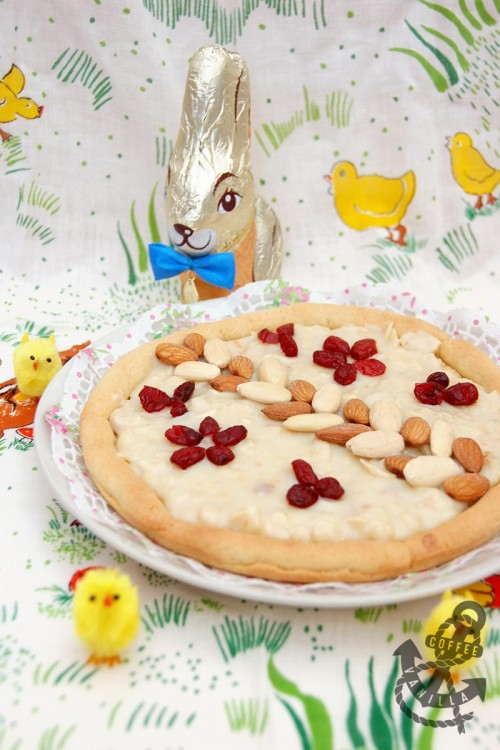 EQUIPMENT
6 non stick sandwich trays or 2 large rectangular trays, lined if baking paper if you are not sure if the dough would not stick to them
mixing bowl
saucepan or double boiler to make the glaze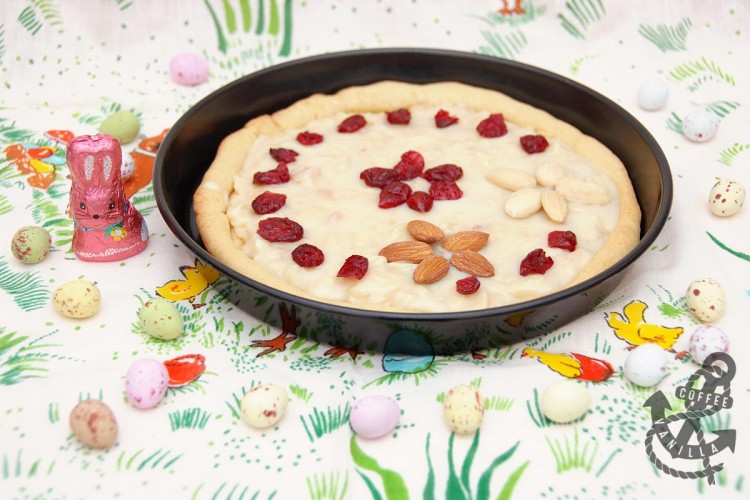 METHOD
In a mixing bowl combine all ingredients for the shortcrust base and knead until well combined.
Spread the pastry on the bottom of each tray, surround edges with logs of the pastry so the glaze would not escape when poured later on.
Pierce with wooden skewer all over the bottom of each pastry so they would not bulge during baking.
Bake in the oven preheated to

200°C (392°F) 

for about 15 – 20 minutes or until the dough is golden brown.
Once the bases are ready pour condensed milk into saucepan and heat over low fire constantly stirring until it will start bubbling and getting thicker to create kaymak glaze. You can also use double boiler for this.
Quickly stir in almond extract and almond flakes.
If you are using the marmalade now it is time to spread it on the bottom of each base.
Pour almond mixture on the top of the bases.
Quickly, while still soft, decorate with fruits & nuts.
Leave aside to set.
Once completely cooled down store in airtight container for a day or two.
Make 6 medium mazurek pies (6 servings each).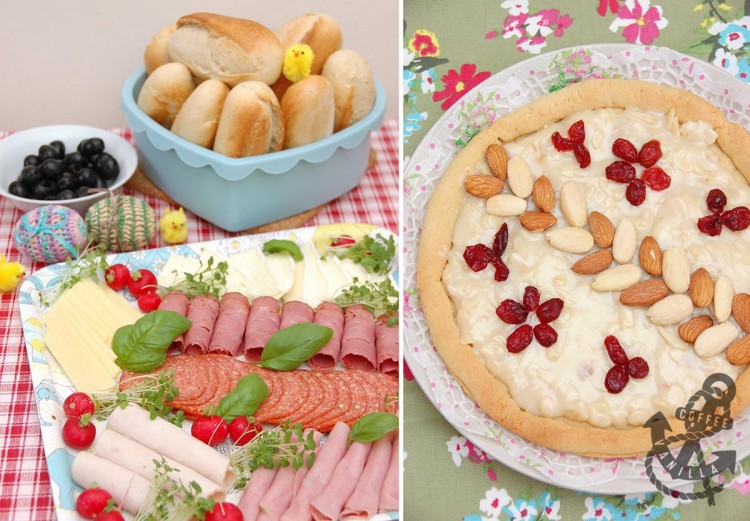 NOTES
Kaymak glaze does not have to have almond flavour, it can be mixed with cocoa powder, vanilla or even coffee.
Mazurki make also great home-made gifts as they are quite sturdy and easy to transport.
They are also absolute must have on traditional Polish Easter table – Happy Easter!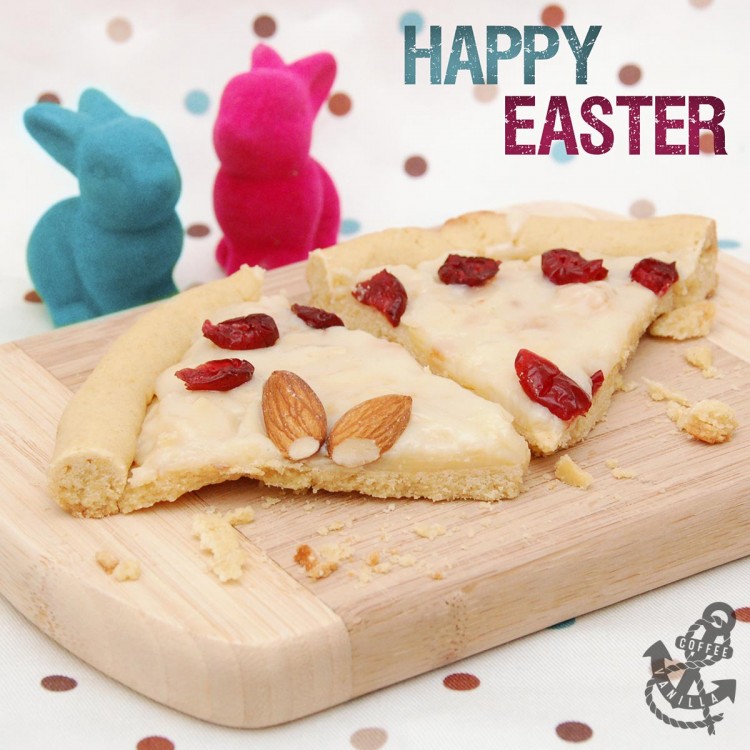 If you are looking for more Easter recipe ideas, then try Gingerbread cookies for Easter from Jeanne of Cooksister, Carrot cupcakes from Michelle of Greedy Gourmet, Easter chocolate pops fromSarah of Maison Cupcake or Orange & cranberry hot cross buns from Solange of Pebble Soup.