This is extremely easy autumnal comfort food that can be prepared mostly from cupboard ingredients such as dried red lentils and tinned tomatoes plus it does not take longer than 30 minutes to cook. It is also vegetarian, gluten-free and on a budget. Another good thing about this soup is the fact that it does not necessarily require any extras. It taste of course great with crunchy, fresh, buttered bread but also good without it and it makes great lunch or even dinner.
It is based on minty red lentil soup and dip we make often during summers. This hot, spiced up version turned out such a big hit in the family that I was asked to make it second time in the row this week, by my husband who usually is not a fan of soups.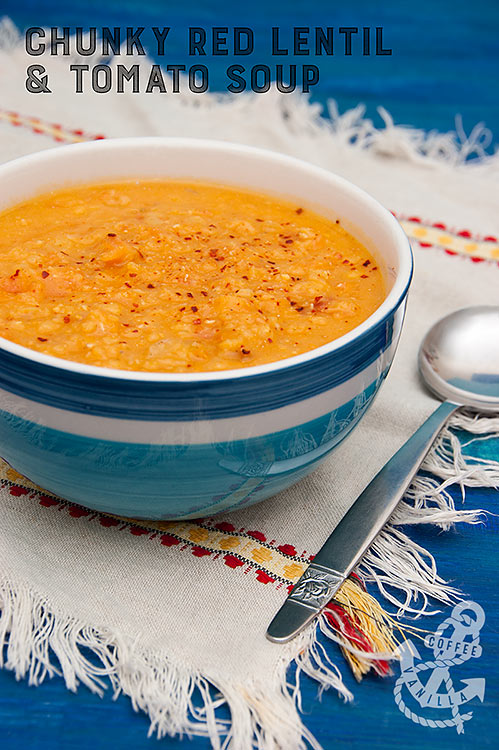 INGREDIENTS
500 g red split lentils (rinsed)
400 g tin of chopped tomatoes
about 50 g tomato puree
2 onions (chopped finely)
4 large vegetable cubes (10 g each)
4 – 5 large carrots (grated)
2½ – 3 l of boiling water
4 – 5 tbs olive oil or cream
sea salt – to taste
crushed chilli flakes – to taste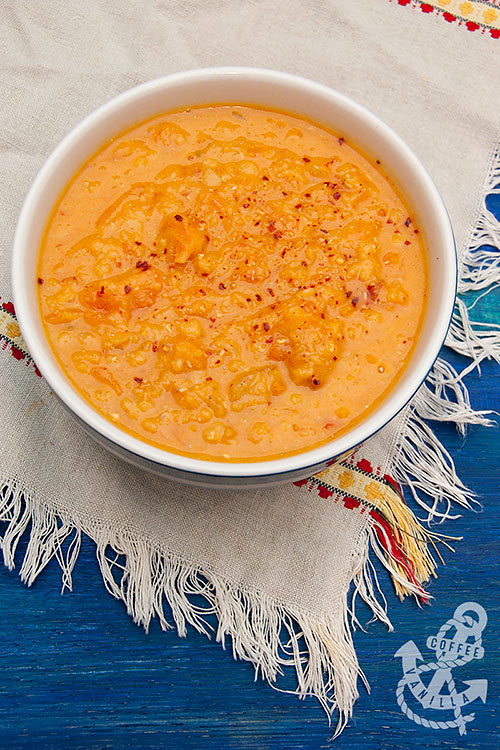 METHOD
In a large 5 l pot combine all of the ingredients, except for chilli flakes, salt and cream or olive oil and cook uncovered for about 30 minutes.
Once the soup is ready, removed it from fire, stir in cream or olive oil, season to taste with salt if necessary.
Share to the plates, sprinkle with some chilli flakes and enjoy while still hot.
Makes 6 generous dinner size portions or 12 lunch time portions. 
NOTES
If you are looking for more red lentils recipes, check out Cream of Red Lentils & Mint – Soup or Dip, Spicy Red Lentil, Curry & Coriander Sauce for Rice, 30 Minute Cream of Carrots & Red Lentils with Pea Puffs we previously made, Roasted Butternut Squash Filled With Spicy Lentil Dhal or Swiss Chard & New Potato Dhal from The Veg Space, Lentil & Ham Soup from Fab Food 4 All or Roasted Butternut Squash & Red Lentil Soup from Family Friends Food.
I'm submitting this recipe to Meat Free Mondays by Jacqueline of Tinned Tomatoes.