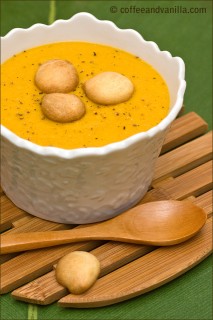 INGREDIENTS
500g dry red lentils (soaked for 10 minutes and rinsed)
1½ kg carrots (chopped coarsely)
2½ litres of hot water
5 vegetable or chicken cubes (10g each)
2 tbs mild curry powder
black peppercorns
½ cup of soured cream
Groszek Ptysiowy (Pea Puffs) to serve or some croutons made of bread fried on butter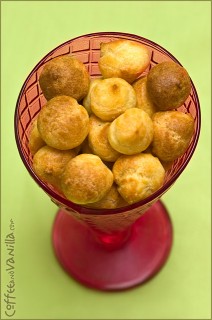 EQUIPMENT
large pot with lid
hand blender
piping syringe (to make pea puffs)
two baking trays (to make pea puffs)
whisk (to make pea puffs)
or frying pan (to make bread croutons)
METHOD
Place hot water, carrots, lentils, cubes and curry powder in a large pot and cook covered for 30 minutes.
In meantime prepare pea puffs or cube some bread and fry on frying pan with butter until crunchy.
Once soup is cooked add soured cream and blend it with hand blender until smooth.
Share to the bowls, sprinkle with freshly cracked pepper and serve with some pea puffs on a side.
Make 6-8 servings.
NOTES
If you don't have time to prepare pea puffs or croutons you can serve the soup with some nice bread sticks.