Lunchbox # 38 (for 4 year old girl)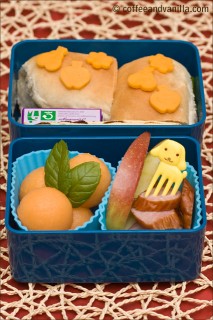 submarine bread roll with Red Leicester cheese and mixed lettuce and beetroot salad topped with apple, pear and flower cheese shapes
fruit biscuit
raisins & sultanas in a mini box
cantaloupe melon balls decorated with mint leaves, in silicone muffin case
plum & pomegranate fruit tea in a bottle (not pictured)
slices of kabanos (Polish sausage) with mini doggy fork + apple pieces, in silicone muffin case
single packed wipe
mini tissue package on a side

Everything closed in a lunchbox with a strap, placed together with large ice pack in an insulated lunch bag.

More lunchbox ideas can be found here: Lunchbox Food.

And here you can read about Packing Children Lunches.

Some of the lunchbox accessories can be found in my Amazon aStore.