[adapted from package of East End lentils]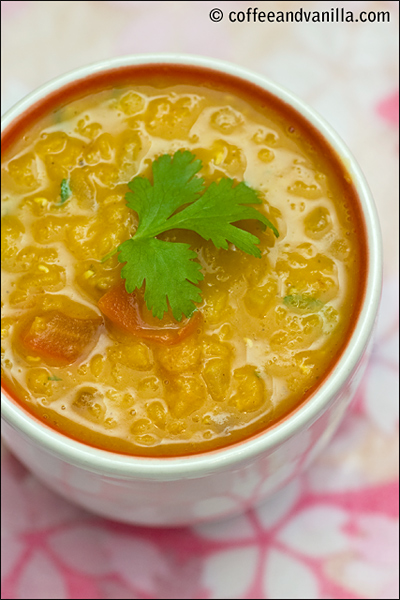 INGREDIENTS
250g dry split red lentils
4 cups of boiling water
4 tbs unsalted butter or some oil
1 large onion (finely chopped)
few garlic cloves (chopped) – optional
1 large or 2 smaller tomatoes (diced)
1 tsp turmeric powder  / curcuma
1 tsp curry powder (I used mild)
1 tsp paprika powder
½ tsp chilli flakes, you can also use some hot sauce towards the end to taste
sea salt to taste
handful of fresh coriander leaves (chopped)
cooked basmati rice to serve
METHOD
Rinse lentils about 4 times, drain and place with 3 cups of boiling water in a wide pot.
Cook for about 15 minutes or until soft, if all water is gone add some more.
In meantime fry onions and garlic on half of the butter, once they are browned add also tomatoes and fry some more, until they are soft.
Add to the pot with lentils together with 1 more cup of boiling water.
Add also the rest of butter and all spices except salt, fresh coriander and hot sauce if used instead of chilli flakes.
Simmer for another 10-15 minutes until sauce has creamy consistence.
Season to taste with salt, fresh coriander and hot sauce if chilli flakes were not added before.
Make enough sauce for 3 cups (before cooking) of rice.
Some more lentil recipe ideas:
Michelle made Dal Makhani – classic Indiana side dish of black lentils flavoured with garlic and ginger among other spices.