This is very versatile recipe that can be turned into cold or warm soup or chilled as a dip.
INGREDIENTS
500 g red split lentils
1500 ml water (2000 ml water for regular pot)
2 onions (chopped)
5 – 6 carrots (sliced)
3 chicken cubes – optional
2 tbs oil (I used grapeseed oil)
1 cup of double cream
fine sea salt to taste
½ tsp of Cayenne pepper or to taste
2 x 400 g tins of chopped tomatoes
handful of fresh mint leaves
some boiled water – optional
few more mint leaves for garnish – optional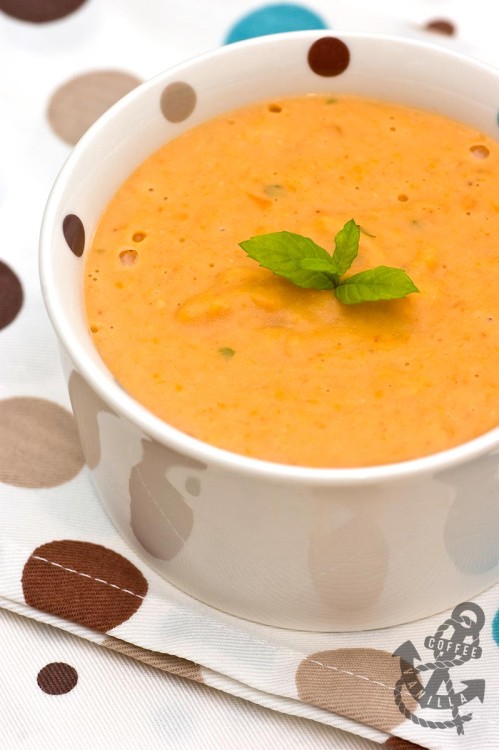 EQUIPMENT
pressure cooker or large pot with lid
hand blender
frying pan
METHOD I (pressure cooker)
For the pressure cooking place lentils, tomatoes, cubes if used and water in a pressure cooker, close the lid and cook for about 7 minutes from the time it will start steaming.
In meantime fry carrots and onions on oil until browned.
Once lentils are done and look like a mash, add onions and carrots, cream, mint and blend.
Then season to taste with salt and Cayenne pepper.
If the soup is to thick you may need to add some boiled water to it.
Share to the bowls and garnish with fresh mint leaves.
Serve warm or cold.
METHOD II (regular pot)
Fry carrots and onions with oil on the bottom of large pot until golden brown.
Add water, cubes if used, tomatoes, lentils, Cayenne pepper and cook covered until lentils are ready, about 20 minutes.
Stir in also double cream, fresh mint leaves and blend.
Season to taste with salt if necessary.
Share to the bowls and garnish with fresh mint leaves.
Serve warm or cold.
Serves 8 – 10 people as a side dish / starter or 4 – 5 as lunch / dinner.
NOTES
Soup can be easily stored for next day and reheated or served cold. If it is to thick just ad some boiled water.
Cooled down soup is very thick and intense in flavour and can be used as a dip for tortilla chips or bread sticks.