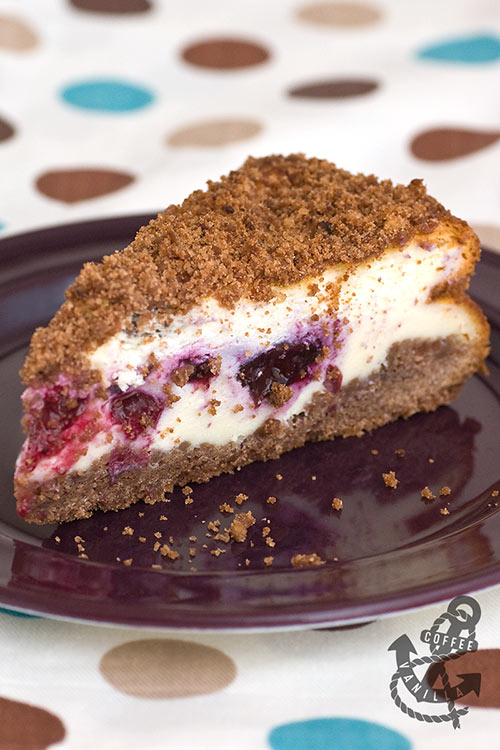 INGREDIENTS
for the blueberry cheese layer
900g cream cheese (full fat)
6 medium eggs + 2 egg whites (yolks will be used for crumb layer)
1½ cup icing sugar
4 tbs potato flour (or other starch)
1 tbs vanilla extract or even better vanilla sugar
400g fresh blueberries (washed, hulled, dried)
for the chocolate crumb layer
2 cups plain flour
2 tsp baking powder
2 egg yolks (egg whites will be used for cheese layer)
1 cup golden caster sugar
3 tbs cocoa powder
150g unsalted butter – a little bit more than half a bar (chopped and softened)
+ some more butter to butter the tin
EQUIPMENT
two 9" (22,8 cm) round non stick cake tins or 1 large square/rectangular brownie tin
whisk
METHOD
Place all ingredients for chocolate crumbs in a bowl and mix with your hands until well combined and have crumb texture.
Spread ⅔ of the dough crumbs on the bottom of buttered tin/tins, even and press them slightly down.
In another bowl combine all ingredients for cheese layer, except egg whites – beat them and add at the end and blueberries.
Carefully pour cheese mixture over dough crumbs in the tin, add blueberries, then top with the rest of the crumbs and bake in the oven preheated to 180°C (356°F) for about 1 hour 10 minutes.
When you are half way with baking you can reduce temperature to 150°C (302°F).
Use wooden skewer to check if cheese did set properly before removing from the oven.
Once cheesecake is baked, leave it to cool down completely, cover in the tin with cling film and place in the fridge for couple hours or even overnight.
Serve cold.
Makes 16 – 24 servings.
NOTES
You may also try "Strawberry Crumb Cheesecake" I made recently using the same cheese layer and crumbs without cocoa powder.
Or "Sernik Czekoladowy z Kruszonką – Polish Chocolate Crumb Cheesecake" on which this cake was based.