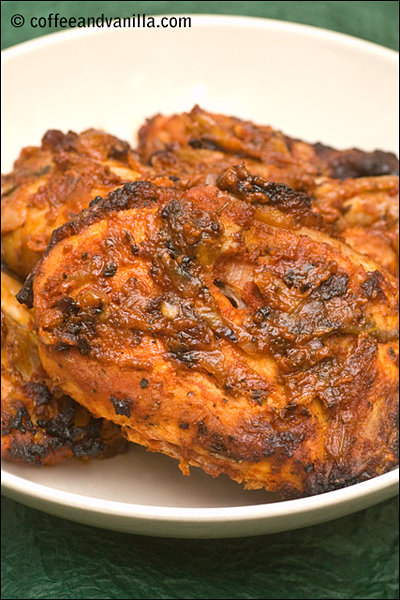 INGREDIENTS
chicken pieces for 8 people (about 16 pieces if drumsticks or thighs)
1½ tbs dried marjoram
2 tbs olive oil
2 onions (finely chopped)
2 tsp garlic granules or about 6 garlic gloves (finely chopped)
4 tbs concentrated tomato paste
4 tbs cold water (for method 1) or 2-3 cups of hot water (for method 2)
1 tsp sea salt
METHOD 1  (baking)
In a mixing bowl combine tomato paste with water, onion, salt, garlic, marjoram and oil, add chicken and stir well.
For better flavour you can leave chicken in marinade for couple of hour or even overnight, or if you don't have time place on baking tray lined with non-stick Teflon sheets or baking paper and bake in the oven preheated to 180°C  (356°F) until browned on one side, turn chicken pieces over and bake some more.
METHOD 2 (cooking)
In a large pot place chicken, garlic (if fresh one used), onions and oil, cook on the bottom of the pot until onions are browned.  Add tomato paste, marjoram, salt, garlic (if granules are used) and water. Cook covered until chicken is cooked and gravy is very thick, let it burn a little bit for better flavour.
Serve with some baked potatoes and salad.
Make 8 portions of chicken.
I usually make it for 4 of us and store half in the fridge for the next day (it taste even better re-hated).