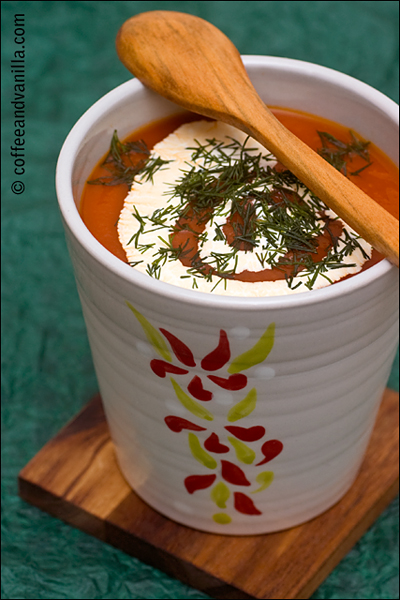 INGREDIENTS
2½ litres of boiling water
700-800g of quality tomato puree (two cup size tins)
2 onions (chopped coarsely)
4 carrots (sliced coarsely)
1 parsnip (sliced coarsely)
4 tbs olive oil – optional
1 cup of double cream
½ cup fresh or frozen dill (chopped)
sea salt – to taste
black peppercorns
EQUIPMENT
large pot with lid
hand blender
METHOD
In a large pot with lid place all ingredients except cream and dill. Cook covered only until vegetables are soft, blend with hand blender, season to taste with salt and share to the bowls or cups.
Top with some cream, freshly cracked black pepper and dill.
Serve 10 people as a side dish or appetizer.
You can also add some instant noodles (without sachet with chemicals) towards the end and cook some more.
Soup taste even better the next day so it is worthy to make bigger portion and have for next day.
Soup can be also served cold on hot days.