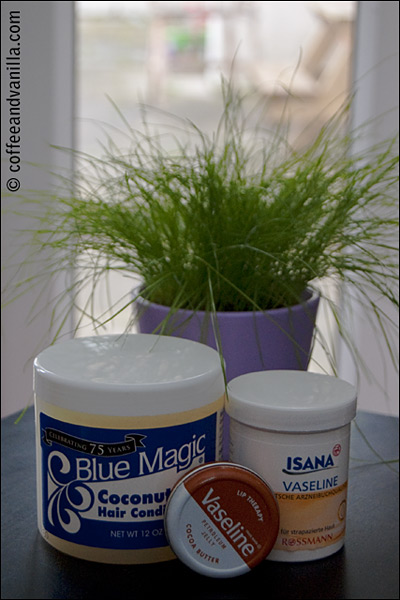 With summer just round the corner I'm always more than ever concerned about dry skin especially the one on the elbows and heels that is exposed in summer clothes and shoes.
For the past few years, during and after two pregnancies I struggled with those problems a lot and tried most available on the market creams and ointments with very little effect I must say, they are all either worthless or do not have pleasant scent.
But regular applications of plain vaseline / petroleum jelly, just a little bit after bath when I had time to massage it into the skin and let is absorb, worked the magic.
My personal favourite is Vaseline Lip Therapy with Cocoa Butter (£1.99 / 20g at Boots) and recently also Blue Magic Coconut Oil Hair Conditioner (£1.99 / 340g at Pak's) which in reality is pure petroleum jelly with coconut oil, it smells great and seems to be the best from everything I have tried so far.
If you know of any other brilliant skin products, please do share, I would love to hear about it.
NOTES
In extreme cases of cracked or split heels, after applying petroleum jelly, wrap them into cling film for the night (not too tight) and wear socks on the top of it.