[recipe adapted from "Mainly Vegetables" by Colin Spencer]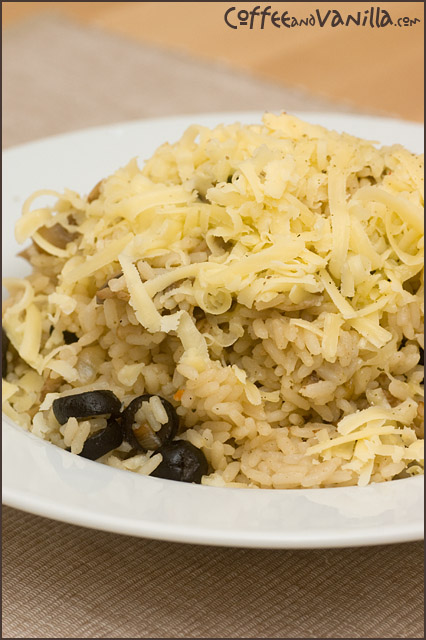 INGREDIENTS
3 cups easy cook long grain rice
6 cups water
2 vegetable cubes (10g each)
750g open cup white mushrooms (sliced finely)
25g unsalted butter
1 cup chopped black olives (240g jar)
150g grated cheese
1 onion (finely chopped)
ground black pepper
sea salt
rainbow peppercorns
METHOD
In a large pot place water, vegetable cubes and rice. Cook covered.
In meantime fry mushrooms on butter in a large deep frying pan or wok, when there is no more water add onions and fry them together till golden brown. Add to the pot with rice.
When rice is ready add also olives, season with salt and black pepper and cook for 1 minute longer.
Serve to the plates, sprinkle with cheese and freshly ground rainbow peppercorns.
Serve 4 people as a main dish.