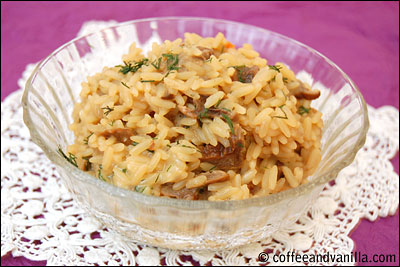 INGREDIENTS
handful dried wild mushrooms (sent by my mother from Poland)
6 cup of boiling water
2½ cups easy cook rice (or even better risotto rice)
1 tbs vegetable stock powder
1 tsp minced garlic (I used "lazy garlic" made by my husband)
2 tbs fresh / frozen dill
25g unsalted butter
100g grated cheese (I used Cheddar) or less if Parmesan
freshly cracked black pepper to taste
METHOD
First re-hydrate the mushrooms in boiling water, for at least an hour.
Scoop out the mushrooms and chop them, do not discard water.
In a pot place rice, chopped mushrooms and the mushroom water.
Add stock powder and garlic.
Cook covered until rice is ready.
Remove from fire, stir in butter, dill and cheese.
Season to taste with freshly cracked peppers and enjoy while still warm.
Makes 4-5 generous portions.