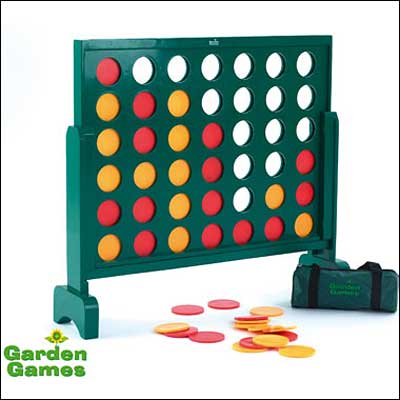 It may look like regular Connect 4 at first but it is not… this is Jumbo Connect 4 that is much bigger than the standard version (75 cm tall), hence it is best suitable for garden but not only.  The whole construction is very sturdy and because of the size and material (solid wood, except for the plastic counters) is quite heavy (almost 9 kg) so it is perfect for outdoors, especially if you have a shed or some place to protect the game from rain.
Jumbo Connect 4 can provide hours of fun during summer days outside or even rainy evenings at home assuming that your living room is large enough to fit it in. If the space is limited the 4 parts of the frame can be easily folded away just like in regular size version. It comes as well with a convenient carry case for the counters which can come handy while transporting the game to the picnic or Christmas party.
Previously, we had standard size Connect 4 at home, unfortunately most of the counters got lost but I'm certain that it will be really hard to misplace the jumbo ones (!)
I was a bit afraid that because of the weight, dropping the counters in the slots can be rather loud and it is, but with couple of children running around in the living room I could hardly hear it anyway. We have tested the game also in our backyard, girls enjoyed it a lot and they did not wan to come back inside, even through the little one did not know how to play it.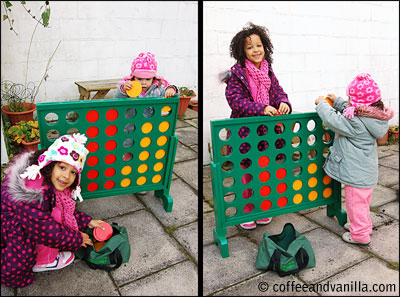 If Jumbo Connect 4 does not seem big enough, there are also bigger versions available: Giant Connect 4 (110 cm tall) and Big Connect 4 (120 cm tall), what ever size you choose this classic game is great as a gift or just to have at home.
NOTES
Try to lift up the biggest part rather than to pull out the bottom bar like in smaller version of the same game, to release the counters.
I wouldn't recommend it to little children that can put their hand in the hole and then drop one of the counters on it, it would hurt.
DISCLOSURE: I received Jumbo Connect 4  from Big Game Hunters for review purposes. I was not financially compensated for this post. All opinions are my own.