INGREDIENTS
1 small butternut squash / about 600 g (peeled, de-seeded and coarsely cubed)
½ small Jack-O-Lantern pumpkin / about 600 g (peeled, de-seeded and coarsely cubed)
2 – 3 tbs olive oil
sea salt to taste
1 whole garlic head (I used smoked garlic)
3 fresh sprigs of rosemary (if you keep the stems you can discard it later easily)
about 10 fresh sage leaves (chopped)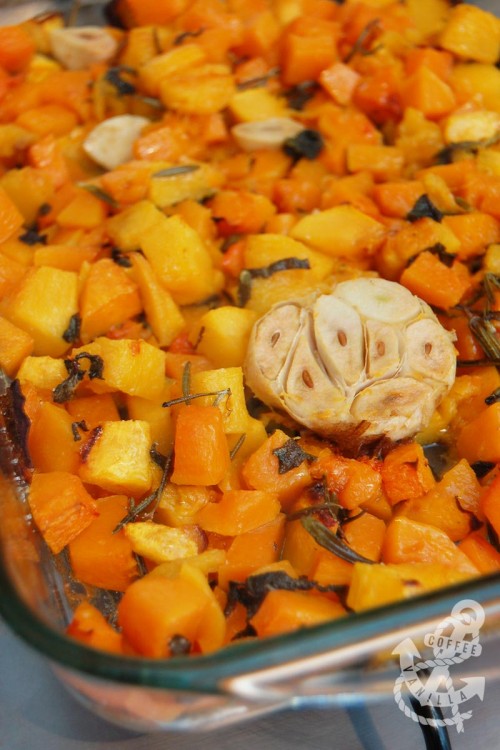 EQUIPMENT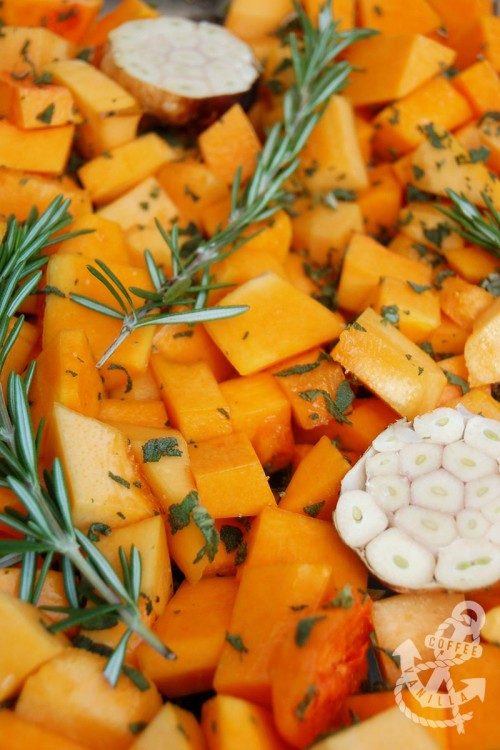 METHOD
Place cubed squash in the oven proof dish.
Sprinkle with sage, a bit of salt, olive oil and mix until well coated.
Top with sage stems and garlic head cut in half.
Put in the oven preheated to 200°C (392°F).
Bake for about 30 minutes stirring once.
Once garlic is baked it is easy to remove the skin leaving roasted garlic cloves in the tray with squash.
Discard rosemary stems.
Mix, season to taste with salt and serve immediately.
Serves 4 – 5 people as a side dish.
NOTES
Taste good with some roasted chicken and potatoes.
If you looking for more inspiration take a look at those Halloween ideas.