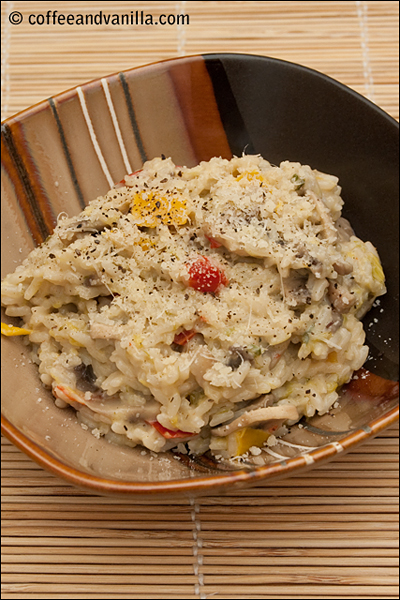 INGREDIENTS
2 cups easy cook rice
350g mushrooms (sliced or chopped coarsly)
2 tbs olive oil
2 tbs unsalted butter
4 cups boiling water
2 vegetable cubes
1 large leek (chopped)
½ tbs dried thyme
½ tbs garlic powder
½ cup creme fraiche or soured cream
1 large or 2 smaller bell peppers (diced)
few tbs grated parmesan or other strong cheese + some more for sprinkling
black or rainbow peppercorns (mixed peppercorns)
METHOD
First on the bottom of wide pot fry mushrooms on butter until browned. Add leek, pepper and oil and fry some more.
In meantime dissolve cubes in hot water and add it to the pot together with thyme and garlic. Cook covered until rice is ready.
Remove from fire, stir in creme fraiche and share to the plates. Sprinkle generously with Parmesan and freshly cracked pepper.
Serve 4-6 people.