[adapted from recipe by Chef Vincet Binet, published in Dominica Food & Drink guide]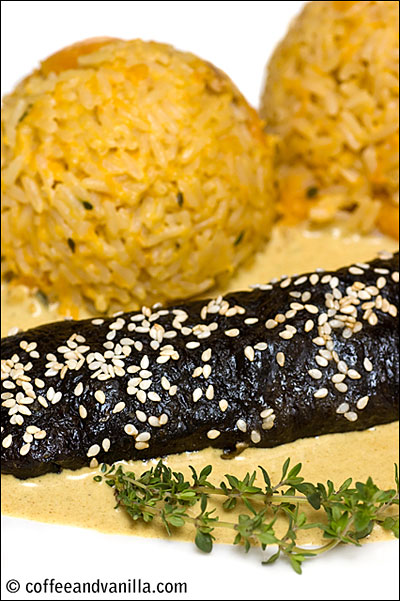 INGREDIENTS
for the seaweed wrapped pouting

6 pouting/pout fillets or  6 portions of other white fish such as grouper or coley, 600-900g
6 roasted seaweed wraps / sushi wraps
sesame oil to brush
sesame seeds to sprinkle
sea salt
black peppercorns
for the curry sauce
1 cup double cream
1 tbs Caribbean curry powder (medium hot)
sea salt
for pumpkin risotto
3 cups of easy cook short grain rice
6 cups of water
1kg piece of pumpkin, I used butternut squash (peeled, de-seeded and cubed)
2 onions (cubed coarsely)
1 garlic head (crushed with side of knife blade, peeled)
¼ bunch of fresh thyme or ½ tbs dried thyme
sea salt
black peppercorns
½ cup double cream
3 tbs oil (I used Carotino)
EQUIPMENT
large baking tray lined with non stick Teflon sheet
small non stick saucepan to cook sauce
large non stick pot with cover to cook rice
large non stick frying pan/wok
silicone brush
METHOD
In a wok sauté cubed pumpkin, onions, thyme and garlic on oil, until soft and falling apart.
In mean time cook rice with water in a large pot. When rice is ready stir in pumpkin mixture, cream and cook some move over low fire until well combined, season to taste with salt and freshly ground pepper. Remove thyme stems if necessary.
When vegetables and rice are cooking preheat oven to 190°C (374°F).
Place each pouting fillet on the end of seaweed wrap, season with salt and pepper and roll like sushi. Place on baking tray, brush with sesame oil, sprinkle with sesame seeds. Bake for about 15-20 minutes.
To prepare sauce, heat over low fire cream in a saucepan, add curry powder and salt to taste. Once it is bubbling and is well combined, remove from fire.
Share risotto and fish to the plates together with the sauce and enjoy.
Serve 6 people.
NOTES
Add a little bit of milk or water if sauce is too thick and cook some more.
Garnish with sprigs of thyme or some fresh vegetables such as tomatoes or cucumbers.
Taste good also with couscous instead of risotto.