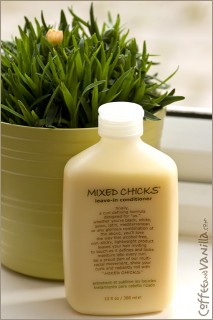 For a longer while now I was going to write this article but only today had a little bit time to take some photos in the day light, before my daughter went to preschool.
Being mother of multiracial child I've been struggling with her hair for over 3 years now. I had very hard time combing them, the only method to make them look good was washing her hair almost daily and putting lots of conditioner (for adults, best for coloured or dry hair) and then trying to comb them, not always successfully.
I tried many products for "white" and "black" hair but nothing was good… products for afro hair were way too greasy and making her hair look sticky, dirty… while products I use on my hair where only good just after wash, next day her hair were again dry, tangled and messy.
It was like this until my friend Sidney tell me about Mixed Chicks leave-in conditioner! :) I wish I knew about this earlier.You may find this conditioner a little bit more expensive than other styling products (about £14 in UK) but it is really worth it… it works plus last long (about 6 months).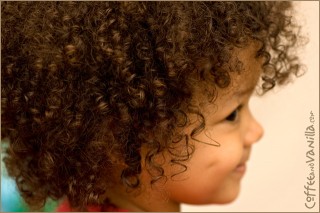 So now I wash my daughter's hair once-twice a week with her baby shampoo, then I use the same adult conditioner I was using before (Herbal Essences for coloured hair or Tresemme anti-breakage) to comb her hair. I rinse them, dry with towel, apply generous portion of Mixed Chicks, blow dry her hair… and the effect is perfect, nice, soft curls!
For the next days all I have to do is to pass wet hands through her hair, add a little dot of conditioner in places were hair seems dried out… I blow dry them or just let them dry itself.
Please share your experience with mixed hair. I would love to hear your tips.
Update I:
Recently I have discovered Organic Care cosmetics from Australia, their conditioner for coloured hair is just perfect to comb curly hair during washing.
Update II:
I discovered couple of new products, you can read about it here.
I have not been asked to advertise any of those products, I just find it so good that I want to recommend it.