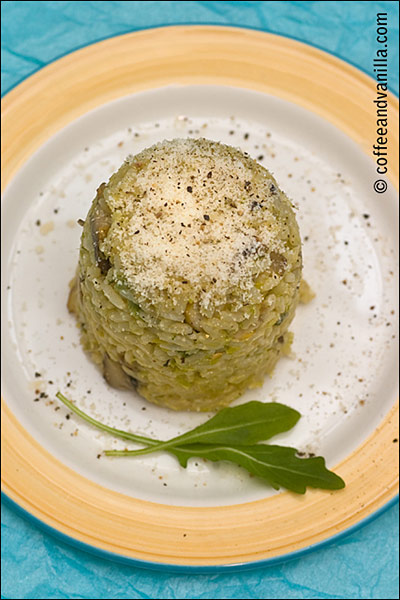 INGREDIENTS
2 cups easy cook rice
4¼ cups water
1 large leek (chopped)
300g button mushrooms (sliced)
2 tbs Carotino or olive oil
1 tbs unsalted butter
2 tsp garlic granules
sea salt to taste
3 tbs grated Parmesan cheese + some more to sprinkle
black peppercorns
couple of fresh sage leaves (chopped)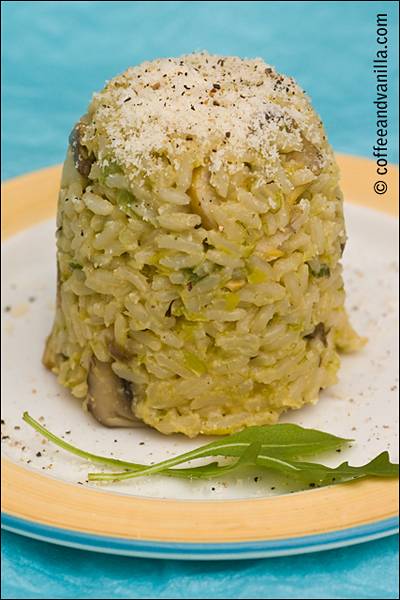 METHOD
In a large pot stir-fry on butter and oil mushrooms and leek, once browned stir in rice, water, garlic and sage.
Cook covered until rice is cooked and almost all water is absorbed.
Add Parmesan, season to taste with salt.
Share to the plates, sprinkle with some more Parmesan and freshly cracked pepper.
Serves 4-6 people as a side dish or snack.
NOTES
I served it with roasted salmon, lemon and some rocket leaves on a side.
Optionally cook the dish with vegetable cube and then skip salt.
Looking for some more risotto recipes?
Michelle made very tempting, even for me who does not eat bacon, leek and bacon risotto.