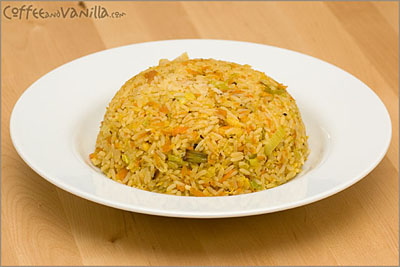 INGREDIENTS
4 cups long grain easy cook rice
7 cups water
4 tbs Vegeta (vegetable seasoning)
2 large leeks (sliced)
8 medium – 1kg (grated)
2 large parsnips – about 500g (grated)
6 tbs oil (I used Carotino)
200g grated cheese
2 pinches ground white pepper
½ tsp dried sage
1 tsp garlic powder
METHOD
In a large pot place water, Vegeta, rice and seasonings. Cook covered till rice is ready.
In meantime fry separate leeks with 2 tbs oil until starting to get brown, leave aside, repeat the same with carrots and parsnips.
When rice is ready and all water gone, add veggies to the rice, cheese and stir.
Serve to the plates.
Taste good with some salad on a side.
Serve 6 people.
For lower in calories version skip 200g of cheese and sprinkle risotto with some grated Parmesan.