This is one of our favourite soups that we often make in our house to be served hot with crunchy bread on a side or cold (with croutons) during hot days.
It is also great quick and healthy lunch recipe that can be prepared in advance.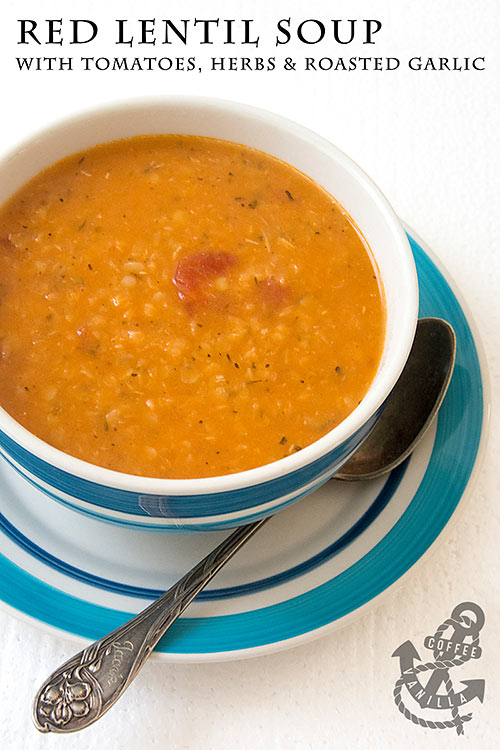 INGREDIENTS
2.5 l boiling water
500 g dry red split lentils
2 x 400 g tins chopped tomatoes
1 tbs mixed Italian herbs or ½ tsp of each: oregano, basil, thyme, rosemary, marjoram and parsley
4 vegetable cubes (10 g each)
thick cream / olive oil to taste
2 – 3 whole garlic heads
chilli flakes – to taste
sea salt – to taste
METHOD
Combine water, red lentils, chopped tomatoes, herbs and cubes and cook over medium fire for about 30 – 40 minutes.
In meantime roast the garlic: cut of tops of the garlic heads or half the heads across (similar to this recipe here), bake in the oven preheated to 200°C (392°F) until soft and browned.
Use fork to remove roasted garlic cloves from the shells, add them to the soup as well and cook some more.
Turn of the fire, season the soup to taste with salt, cream or olive oil and optionally chilli flakes.
Serve while still hot with some crunchy bread on a side or in smaller portions, cooled down, gazpacho style with some croutons.
Makes 6 generous dinner size portions or 12 smaller portions. 
TIPS
Prepare soup in advance and share into fridge or freezer containers for fast and healthy lunches.
Roasted garlic can be substituted with some smoke powder and garlic granules or skipped altogether.
NOTES
If you are looking for more split lentil recipes, take a look at Chunky Red Lentil & Tomato Soup with Carrots, Cream of Red Lentils & Mint, 30 Minute Yellow Lentil & Roasted Pepper Soup, 30 Minute Cream of Carrots & Red Lentils with Pea Puffs, Red Lentils with Onions & Basmati Rice, Spicy Red Lentil, Curry & Coriander Sauce for Rice or Barley Stew with Smoked Garlic, Mushrooms & Lemon Thyme.
Homemade croutons recipes and other delicious soup accompaniments: Herbed Croutons, Quick & Easy Crisp Baguette Croutons with Cheese, Crunchy Semolina Bread, Tomato & Garlic Plaited Bread Sticks, Cheese & Onion Muffins and Pea Puffs.