This is very quick, easy and delicious way to pimp up any plain soup using leftover French bread.
INGREDIENTS
baguette (coarsely sliced)
salted butter or butter spread
grated cheese (I used mature Cheddar)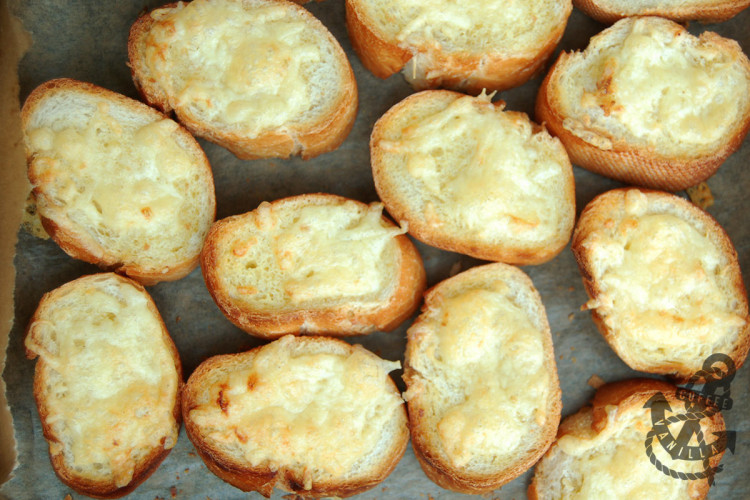 METHOD
Place buttered baguette slices on baking tray lined with parchment paper.
Sprinkle generously with grated cheese
Bake in the oven preheated to 200°C (392°F) for couple of minutes, until edges and cheese will start getting golden brown.
Serve immediately with your favourite soup as a side.
NOTES
Today I made one of my long time favourites: Zupa Ogórkowa / Polish Sour Cucumber Soup but for change I served it with those croutons… it was delicious (!)
If you are looking for croutons alternative, check out those Groszek Ptysiowy (Pea Puffs) or Crunchy Semolina Bread.
More soup recipes calling for bread or croutons: 30 Minute Yellow Lentil & Roasted Pepper Soup, Creamy Mushroom Soup, Spicy Tomato Soup with Roasted Peppers, Grochówka (Polish Navy Pea Soup) or Mixed Veg Soup with Garlic and Sage.