[adapted from recipe by Sig of Live to Eat]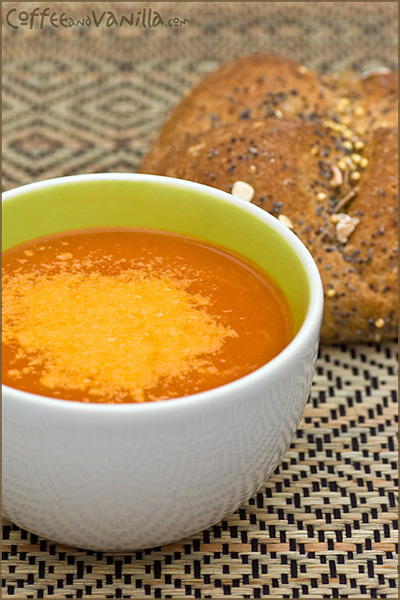 INGREDIENTS
4 x 400g tins of chopped tomatoes
8 cups of hot water
800g red and orange bell peppers
4 vegetable cubes (10g each)
8 large sweet shallots or 2 regular onions – 200g (sliced finely)
1 whole garlic head (peeled)
½ lemon juice or to taste
½-1 tsp chilli flakes / crushed chillis
2 tbs Carotino or olive oil
grated Parmesan or thick cream to serve
4 wholemeal bread rolls
sea salt to taste
EQUIPMENT
hand blender
METHOD
Place peppers on baking tray roast in 180°C (356°F) till skin become brown-black. You may need to turn on both oven and grill option on. Take peppers out from the oven and close them in a plastic bag for about 15 minutes. Then rub the skin off, it should come out easily. Remove insides and place them in the large pot together with juices from roasting. Add also tomatoes, cubes, water, chilli flakes and cook covered for about 15-20 minutes. In meantime fry shallots and garlic on oil until golden brown. Add them also to the soup, season with lemon juice and some salt if needed. Blend everything using hand blender.
Share to the plates topped with cream or Parmesan and bread rolls on the side.
Serve 4 people.
More roasted pepper recipes you can find here.