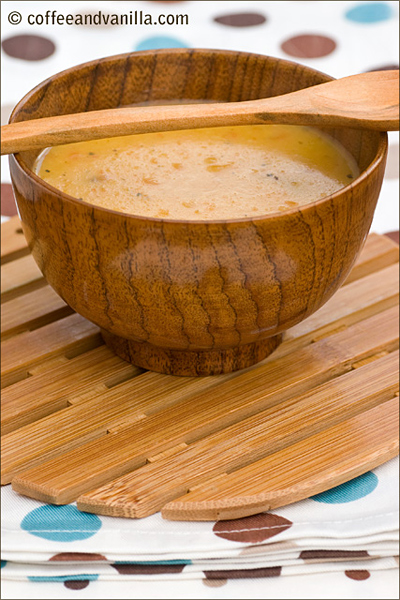 INGREDIENTS
500g dry yellow or red split lentils (soaked for 10 minutes and rinsed)
2500 ml boiling water or a little bit more
4  vegetable or chicken cubes (10g each)
3-4 red bell peppers
1 tbs garlic granules or few garlic cloves
1 tbs dried oregano
smoked bacon slices or chopped kabanosy (Polish slim dry sausages similar to peperoni)  – optional
EQUIPMENT
large non-stick pot with lid
hand blender
gas cooker
tongs
container with lid, plastic bag or bowl and a plate
large baking tray to grill bacon or frying pan for kabanosy – optional
METHOD
Place lentils, 2500 ml of water, cubes, garlic and oregano in a pot and cook covered for about 30 minutes.
In meantime burn peppers over gas until each side is black. Place in container, cover with lid, let them steam for about 10-15 minutes. Rub of with your hands some burned skin, but not all, Deseed ad leave aside.
If you are making non-vegetarian version of the soup, place bacon on the baking tray and grill until crispy. Then chop it and leave aside. If you are using kabanosy just place them on frying pan and heat until browned.
When lentils are ready add roasted pepper and blend until almost smooth. Add more water if needed or leave soup as it is, depends on how thick you like it, and stir well.
Share to the bowls, sprinkle with crispy bacon and serve with some fresh buttered bread on a side or some croutons.
Make 4 large or 6 medium portions.