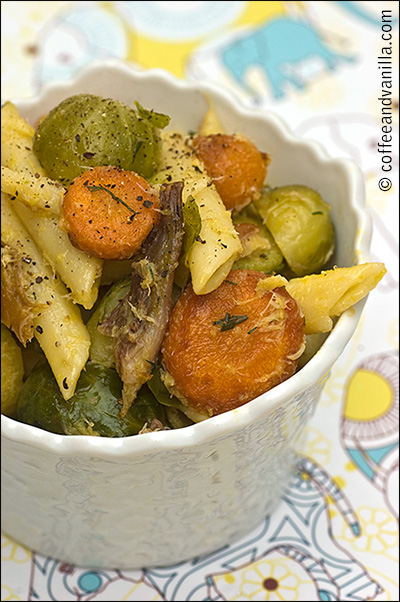 INGREDIENTS
500g penne pasta (or other shape)
500g Brussels sprouts (cut in halves lenghtwise)
500g carrots (coarsely sliced)
2-3 tbs Carotino or olive oil
1-2 tbs fresh or frozen chopped dill
black peppercorns
½ – 1 tbs garlic granules
fine sea salt to taste
500g ready to eat smoked mackerels, about 4-6 (flaked or segmented)
EQUIPMENT
wok to fry carrots (or roasting tray)
large pot to cook pasta and then mix all ingredients together
pot to cook Brussels sprouts
colander
METHOD
In a large pot cook pasta in slightly salted water, drain, return to the pot and leave aside.
In meantime cook also Brussels sprouts (halved) in water until soft to your liking, drain and leave aside.
In a wok fry carrots on oil until browned and soft to your liking. Once carrots and done combine them with Brussels sprouts, continue heating the wok until all water from Brussels sprouts is gone.
Add veggies to the pot with drained pasta. Add also mackerels, garlic granules, dill, season to taste with freshly ground pepper and salt if necessary. Serve immediately while still warm or later cooled down.
Serves 4-6 people.
You can also roast carrots with a little bit of oil instead of frying them.
Add a little bit more oil if salad is too dry.
Looking for more Brussels sprout recipes?
Jeanne of Cook Sister has quite a few of them on her blog, like those caramelised garlic, lemon and chilli Brussels sprouts
or sautéed Brussels sprouts with Nduja and preserved lemon.