[inspired by Jamie Oliver and his semolina bread with rosemary and garlic]
INGREDIENTS
1½ cup semolina (about 250 g)
1½ cup plain white flour
1 tbs active dried yeast
1 cup lukewarm water or a little bit more
50 ml olive oil + some more to spread on the baking tray
handful basil leaves – optional
2 garlic cloves – optional
½ tbs salt
½ tbs sugar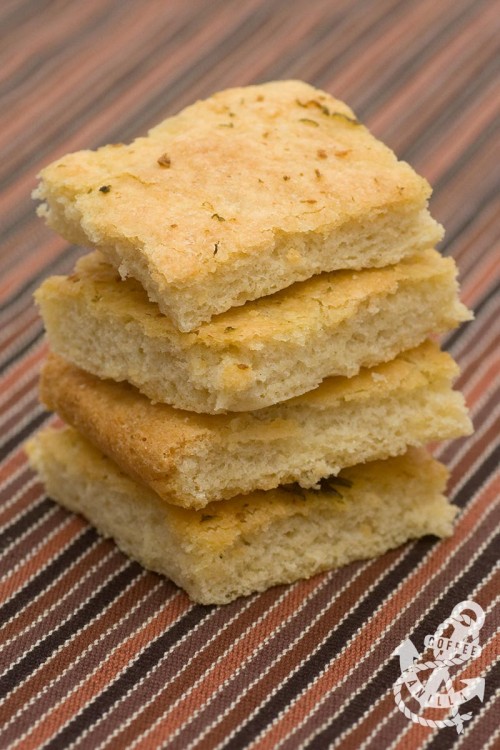 EQUIPMENT
pastry brush
baking tray
mortar & pestle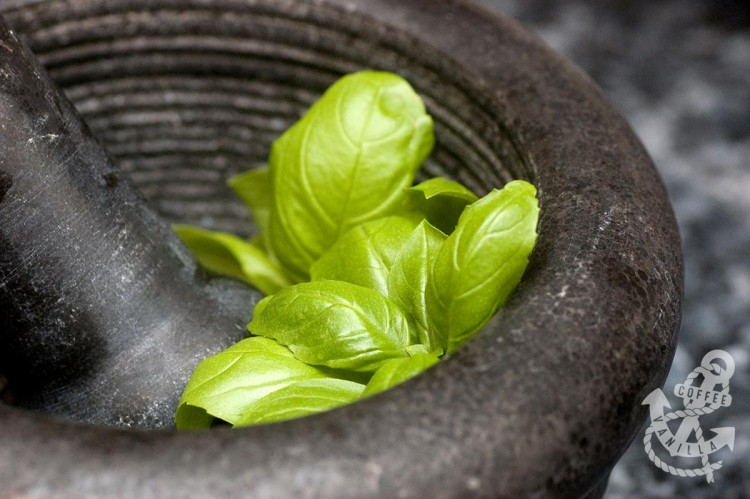 METHOD
Combine half of the water, sugar and yeast and leave aside for 10-15 minutes.
In large flat bowl mix semolina, flour and salt.
Add yeast mixture, rest of the water and stir with a spoon till it is too hard to stir.
Take out dough and knead on floured surface for 10 minutes.
Cover dough with tea towel and leave in warm quiet place for about an hour to grow. It should double the size.
Then spread some oil on baking tray, place dough on it and stretch with your fingers to desired size.
Cover with tea towel and let it grow for another 30 minutes.
In meantime crush with mortar and pestle basil and garlic, spoon it out to container with olive oil and leave aside till dough is ready.
Using pastry brush spread oil on the top of the dough and bake in preheated oven to 180°C (356°F) for about 20 – 30 minutes.
Makes enough bread for soup or salad for 6 – 8 people.
NOTES
It is perfect for soups and salads, we served it with Potato & Leak Soup.
Taste best the same day and still hot, next day it won't be so crunchy.