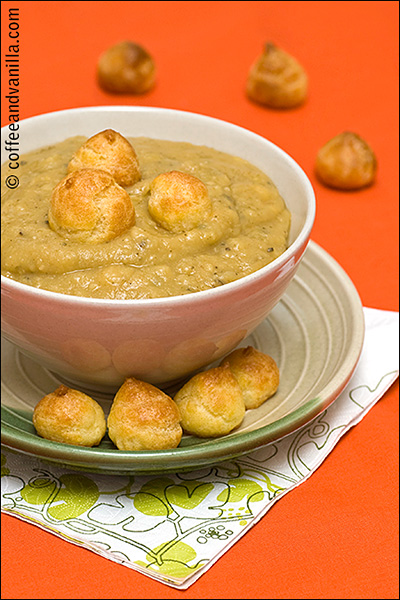 INGREDIENTS
1000 g yellow split peas (soaked overnight in plenty of water)
3 litres of water
2 carrots (chopped coarsely)
1 parsnip (chopped coarsely)
1 large leek (chopped coarsely)
piece of celeriac (about 100g)
4 vegetable cubes (10g each)
1 tsp cumin seeds
2 tsp dried savory – optional
½ tsp ground black pepper
sea salt to taste
3 tbs dried marjoram
6 bay leaves
4 onions (chopped)
1 whole garlic (peeled, sliced) or 1 tbs garlic granules
50 g unsalted butter
200 g kabanosy – Polish thin sausages or other dry sausages (sliced) or chopped bacon – optional

EQUIPMENT
large pot with cover
hand blender
frying pan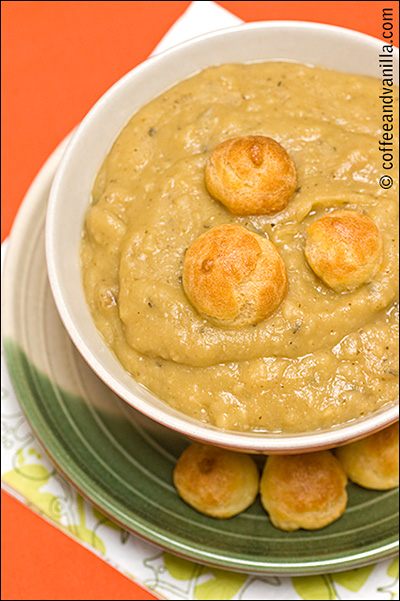 METHOD
Place soaked overnight, washed and drained split peas in a large pot, add water and bring to boil.
Cook removing any foam that is creating on the surface.
Reduce fire, add vegetables: carrots, parsnip, leek, celeriac, cubes, spices: cumin, allspice, savory, black pepper, garlic if granules are used, only 2 tbs of marjoram, bay leaves and garlic granules.
Cook covered for about 45 minutes.
In meantime fry onions, sliced garlic and optionally kabanosy on butter, until onion is golden brown. Leave aside.
When vegetables in the soup are soft, mix everything using hand blender.
Stir in onions, 1 tbs of dried marjoram and cook 2 minutes more.
Season with salt to taste.
Serve to the plates with croutons or groszek ptysiowy (click for recipe here).
Makes 8-10 portions.
NOTES
If the soup will get too thick, just reheat adding some more water.