This is very simple 5 ingredients soup made of large Halloween carving pumpkin guts and flesh, chopped tomatoes and served with delicious, fragrant herbed short bread croutons topped with cheese.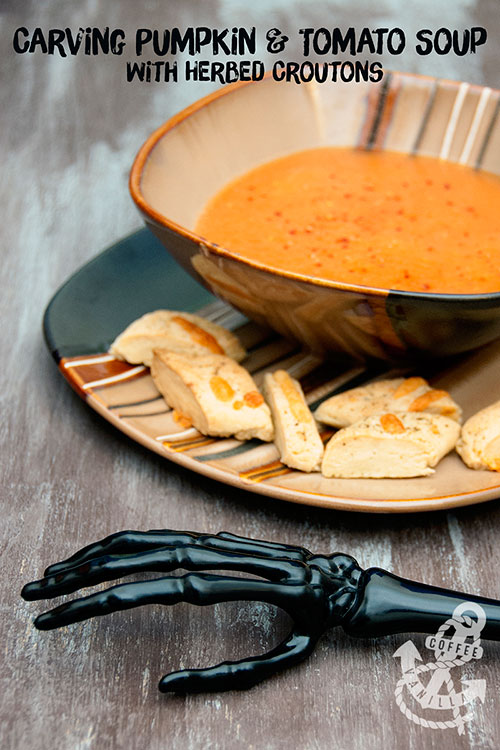 INGREDIENTS
for the soup
guts and flesh of 1 large carving pumpkin (seed removed and saved to make roasted seeds with sea salt and real butter)
2 x 400 g tins of chopped tomatoes
whole garlic head (peeled)
4 tbs boiling water
sea salt – to taste
4 – 5 tbs of olive oil
chilli flakes – optional
for the herbed shortbread croutons
2 cups of plain flour

125 g salted butter

2 large egg yolks

2 tbs soured cream

dried herbs (we used Italian herbs mill with rosemary, sage, bay, basil, marjoram and thyme)
handful of grated cheese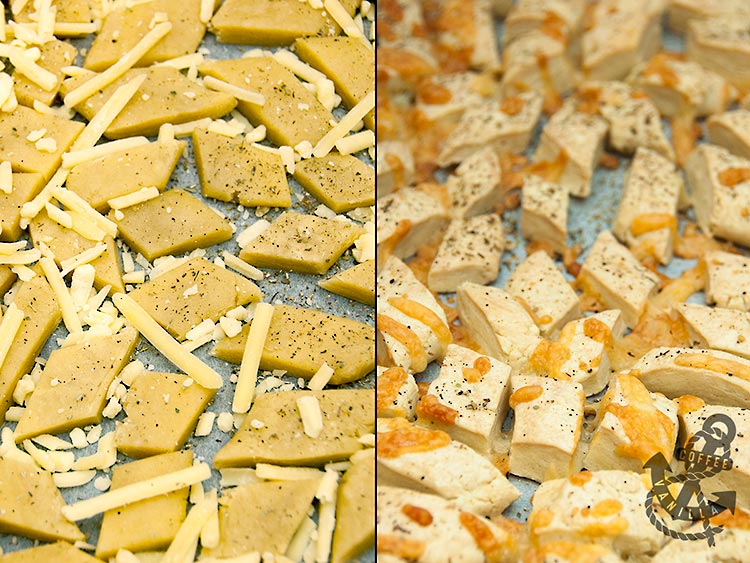 EQUIPMENT
large pot / about 4 l
hand blender
large baking tray lined with baking paper for the croutons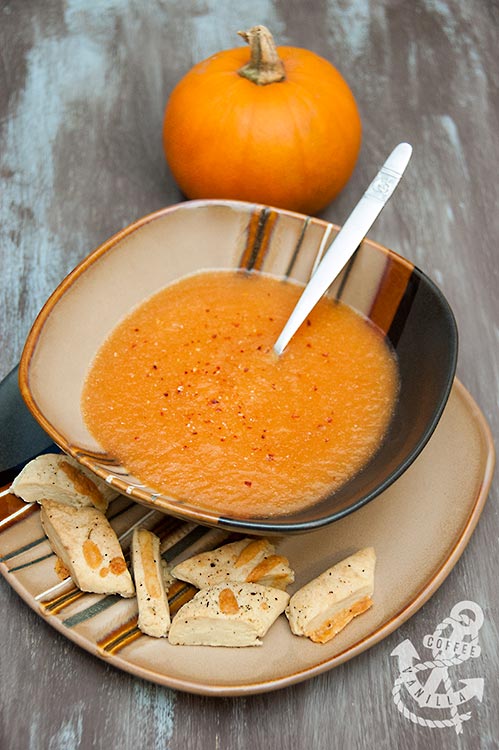 METHOD
To make the pastry combine all of the ingredients and knead until smooth, place in the fridge for at least 2 hours. This step can be done in advance, even days or weeks in earlier.
In a large pot place all pumpkin bits, tomatoes, water and cook over medium fire until all cooked, about 40 minutes.
While the soup is cooking remove dough from the fridge, shape into rolls to flatten them and then chop to create the croutons. Place on a baking tray, sprinkle with herbs and cheese and bake in the oven preheated to 180°C for about 15 – 20 minutes or until golden brown.
When the soup is ready, blend it, season to taste with salt.
Add also olive oil and share soup to the bowls, optionally sprinkle with some chilli flakes.
Serve with herbed croutons on a side.
Makes 6 servings.
NOTES
Shortbread pastry can be friezed and then defrosted to use when needed.
You can also use 500 g ready made shortcrust pastry instead.
If you are looking for more ways to use up leftover pumpkin flesh after carving them, check out this Pumpkin Fruit Cake or Curried Pumpkin Soup by Camilla, Roasted Pumpkin Hummus by Helen, Creamy Pumpkin Soup with Toasted Almond Flakes, Cream of Roasted Pumpkin & Sweet Potato Soup with Parmesan Crisps or Halloween Pumpkin Soup with Milk we previously made.
I'm submitting this recipe to Elizabeth's Kitchen Diary No Waste Food Challenge hosted this month by Kate from Veggie Desserts…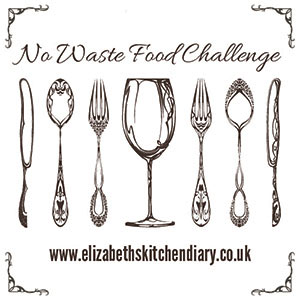 and Cooking with Herbs by Karen from Lavender & Lovage hosted this month by Linzi from Lancashire Food, this month's theme is: Bread, Biscuits & Cakes.