[inspired by Valli from More Than Burnt Toast]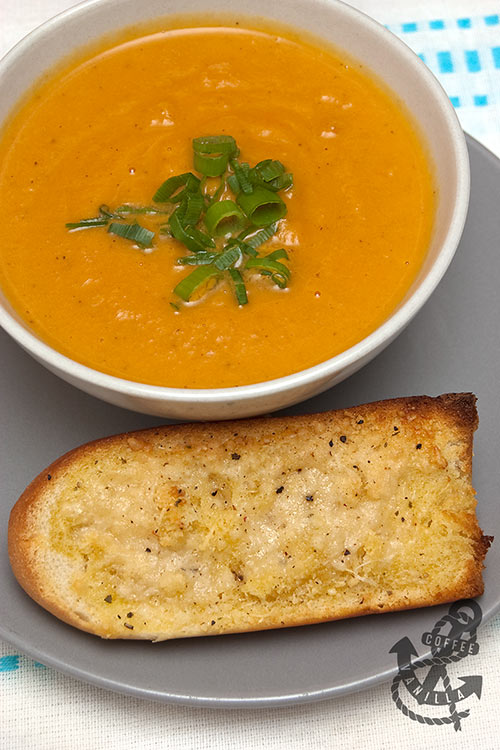 INGREDIENTS
huge pump­kin – about 1¹∕₂ kg pumpkin flesh will be needed
750 g sweet potatoes (peeled and cubed)
2 large onions – about 300g (cut into wedges)
3 tbs olive oil or butter
2 litres of boil­ing water
1 cup double cream
4 veg­etable cubes (10g each)
6 tbs tomato puree
1¹∕₂ tbs garlic granules
1 tbs herbal pepper or optionally some other herb mix
sea salt to taste
4 small baguettes
about 50 g of grated Parmesan cheese
handful of chopped chive to serve
EQUIPMENT
tools to carve pump­kin or sharp knife and metal ice cream scoop
tea light can­dles
roasting tray
large pot to cook soup
hand blender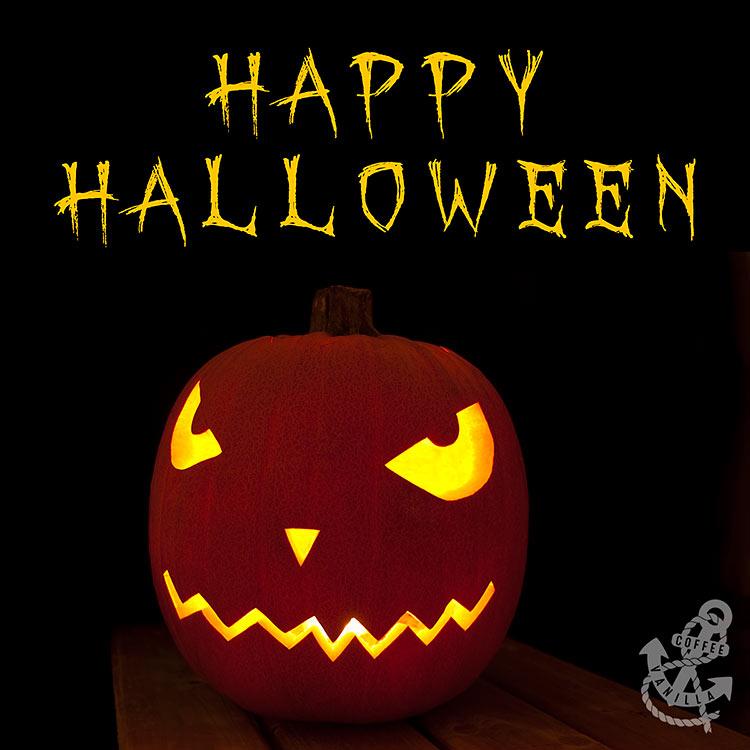 METHOD
First make zigzag open­ing on the top of the pump­kin, around the stem (must be big enough to scoop out all inside). Using hands or large spoon take out all seeds, dis­card or leave aside if you want to roast them later. With spe­cial scoop, sharp spoon or metal ice cream scoop take out pump­kin flesh and leave aside. Then using sharp knife or spe­cial carv­ing tools cut out nose, eyes and pump­kin mouth (I used filleting knife). Place tea light can­dles inside and place back top of the pumpkin.
To make the soup place on the baking tray sweet potatoes, onions and bigger pieces of pumpkin flesh, toss with some olive oil or butter and place in the oven preheated to 200°C (392°F). Roast until browned.
In meantime combine water with cubes to make the stock. Place together with all the rest of pumpkin flesh and cook covered for about 30 minutes.
When roasted vegetables are ready add them also to the pot, season soup with garlic, herbal pepper, tomato puree and cook covered for another 10 – 15 minutes.
While the soup is still cooking it is time to make Parmesan crisps. Cut each baguette in half, then slice them lengthwise. Spread some butter on them, sprinkle generously with Parmesan cheese and season with freshly cracked rainbow peppercorns. Place in the oven preheated to 200°C (392°F) for couple minutes until bread is golden brown.
Once the crisps are ready remove soup from fire and blend until smooth, add cream and blend some more.
Season to taste with salt and serve in the bowls sprinkled with some chive and Parmesan crisps on the side.
Serve 6 people plus 1 toddler.
Happy Halloween Everyone!