This is one of the most comforting soups I have ever made… is thick, creamy and very fragrant… perfect for cold and rainy days.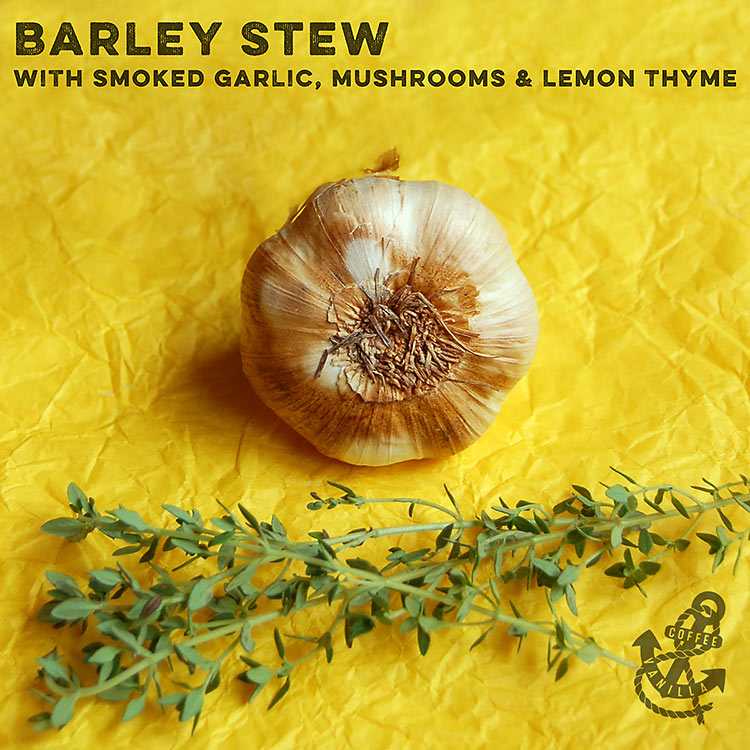 INGREDIENTS
200 g pear barley + 300 g mixed dried beans / peas ( lentils, yellow & green split peas, marrow fat peas, red split lentils, adzuki beans etc.) or ready 500 g country soup mix with barley included – soaked overnight
bunch of spring onions (chopped)
1 whole smoked garlic head (peeled)
300 g button mushrooms (sliced)
3 tbs butter or oil for frying mushrooms
1 large sweet red pointed pepper (cubed)
handful of thyme leaves, preferably lemon thyme (hard stems removed)
2500 ml / 10 cups of boiling water
500 ml / 2 cups of boiling water + 4 vegetable cubes (10 g each)
crème fraîche to taste
sea salt to taste
hot sauce to serve – optional
sea salt to taste
crusty bread or some toasted naan to serve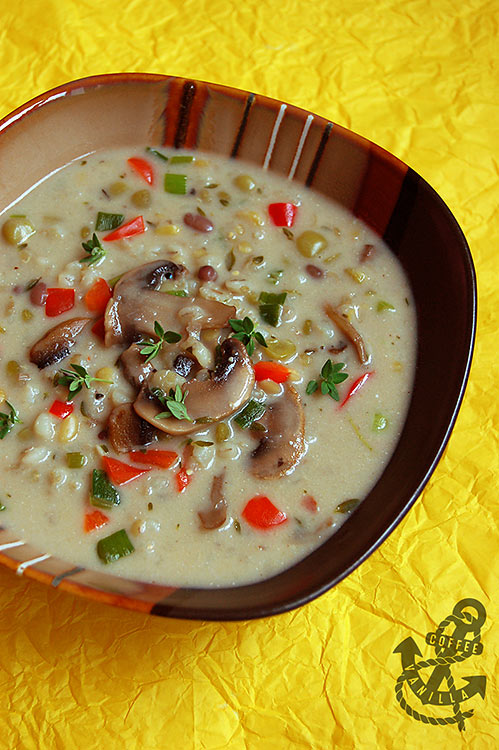 METHOD
Soak beans or barley / bean mixture in cold water overnight or for at least 8 hours.
Rise, drain and cook in the large pot with 2500 ml / 10 cups of fresh boiled water, thyme and garlic until beans are soft.
Add cubes dissolved in remaining 500 ml / 2 cups of boiling water, cook some more.
In meantime fry mushrooms on oil or butter until browned.
Add spring onions and peppers to the frying pan and cook for a short while longer, only until witted.
After about an hour when the beans are completely soft stir to the pot mushrooms, season to taste with some salt and crème fraîche .
Serve warm, topped optionally with some hot sauce and with crusty bread on a side.
Serves 4 – 6 people.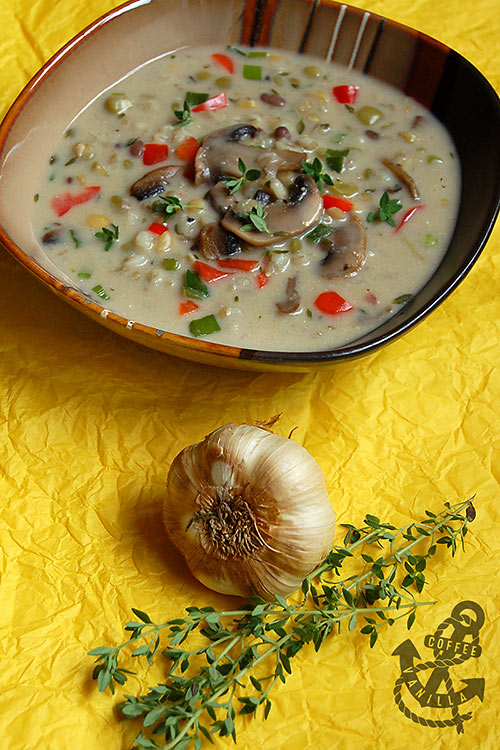 TIPS
If you have spice bags don't throw away smoked garlic skin, place it in the pot together with the stew inside spice bag to give it even more smokey flavour.
Smoked garlic can be replaced with regular garlic and about ½ tsp of liquid smoke added towards the end of cooking.
Sometimes I skip the spring onions and peppers but I add 3 sliced carrots to the pot and replace thyme with freshly chopped parsley added towards the end of cooking.
NOTES
If you are looking for more warming up take a look at our Soups & Stews section or Autumn & Winter recipes.