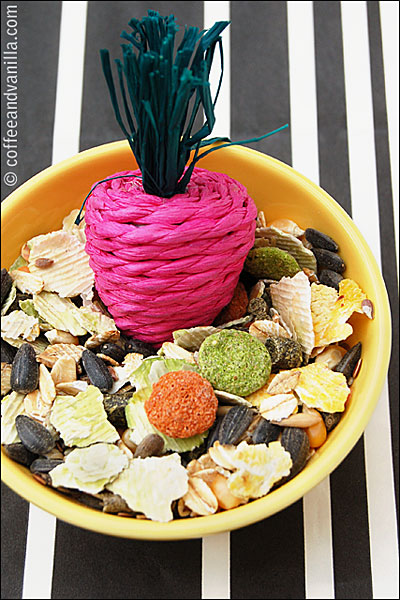 Because one of my daughters has peanut allergy I had to work out healthy balanced peanut free diet for our hamster and it was much easier than I thought.
It is a pity that almost all ready supermarket hamster food mixes contain peanuts as the cheapest nuts. But in all good pet shop you will be able to get ingredients for the mixes separate and then complement them with extra stuff from your cupboard. We buy ready seed, mineral & vitamin mix called "Bobtail" plus extra sunflower seeds (unpeeled) to replace lack of fatty peanuts. And then at home we mix them with other things like lentils, corn, flax seeds, sesame seeds etc.
In additions to daily seed mix you will need to feed your hamster with some fresh fruit & veg and and proteins such as eggs, meat or insects if you can get them in your local pet shop. Each hamster is different, our Toffy gets 1 heaped tsp of mixed seeds & nuts, 1 tsp of raw food and 1 tsp of proteins a day and he does not finish all the food, he is stacking best bits in his bedroom and then  forgetting about them…
Hamsters like and need to gnaw on things to keep their teeth trimmed, there is a lot of options like unpeeled nuts (crack them a little), ready gnawing sticks covered in nuts, straw & wooden toys or even dog biscuits just to mention few.
Also treats are very important, keep them for the time to interact with your pet, feed from hand.
And don't forget about fresh water in hamster bottle every day and removing uneaten veggies from the cage before they will start to rotten and the cage will fill with crawling white worms with black heads.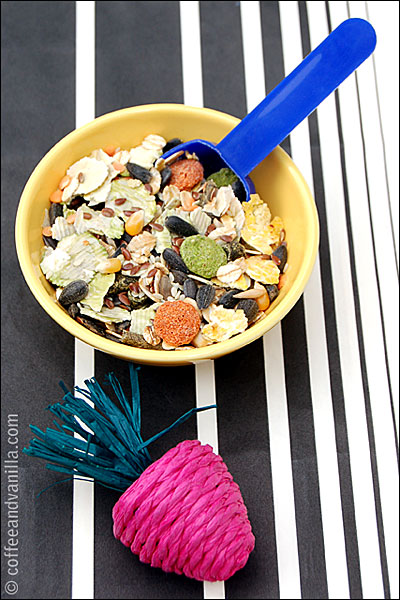 Lists of hamster safe foods can be found below:
(Toffy's favourites are listed on the top of each list)
seeds, grains & nuts
sunflower seeds (unpeeled & unsalted)
dried green or red lentils
locust bean pieces
porridge /rolled oats
a little bit of other nuts than peanuts (see below in treats) but not too many, they are very fattening… keep them for treats
pumpkin seeds
flax seeds
dried corn
grass pellets
pea flakes (raw, squashed and dried)
wheat
barley
minerals & vitamins for hamsters
If you can't get  minerals, pellets, locust bean or any of the ingredients separate you may want to use mix of seeds, minerals & vitamins without nuts designed for rabbits, mice, gerbils and other small animals for the base and then add extras.
raw fruits and vegetables
corn on a cob (a slice will be enough)
carrots
apple
cabbage
garden peas including the pods
lettuce
seedless grapes
cucumber
banana
sweet bell peppers
turnips & parsnips
cauliflower & broccoli (one of the favourites)
melons & watermelons
blueberries
asparagus
green beans
zucchini / courgettes
marrow
raspberries & strawberries (not keen especially on raspberries)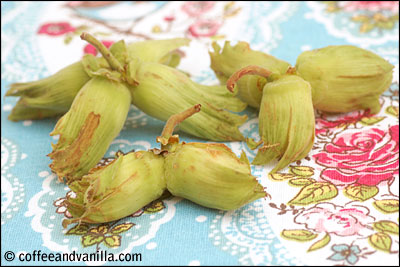 other safe plants
acorns
hazel tree
tilia / linden tree, leaves etc.
blackberry, strawberry & raspberry leaves & twigs
grapevine
balsa tree
red clover and white clover
cornflowers
roses
mint
dandelion flowers and leaves
watercress
cat grass (that is actually the same oatgrass or wheatgrass that you can buy in health stores)
proteins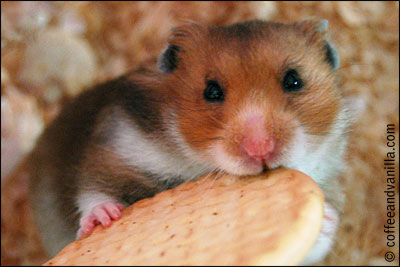 treats
walnuts
bread sticks
tortilla wrap pieces, a bit dried out tortillas are even better
ready treats (just check ingredients in case they contain peanuts), for instance Gerty Guinea Pig – Nibble & Squeak
raisins
cooked pasta, rice and potatoes
Brazil nuts
pine nuts
pecans
cashews
currents & prunes
bread – fresh or stale
milk or bread soaked in milk
milky oats
plain biscuits
low sugar cereals (Rice Crispies Multi-Grain Shapes or plain Cheerios – not the honey & nut version as it has peanuts)
teeth trimmers
dog biscuits (Purina's Bonio for instance) to keep the teeth trimmed
wooden, mineral or straw toys – our hamster likes the straw ones the best
ready hamster gnawing sticks / balls (not all of them contain peanuts, check the list of ingredients)
nuts in the shells (cracked a bit)
twigs & small branches (hazel, tilia / linden / lime tree (not the citrus one), berry plants, apple & pear wood, willow, bamboo, coconut shell, maple )
yute / cotton twine (to make gnawing toys)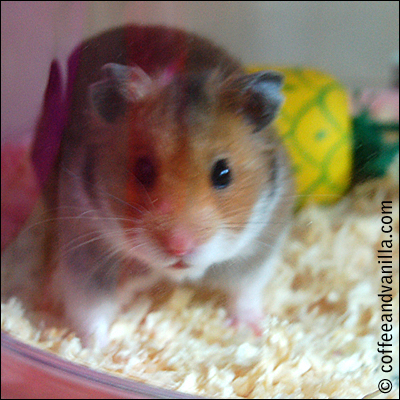 I'm posting this article on request from another peanut allergy affected family but we are quite new hamster owners so please do not hesitate to let us know if there is anything else we should know.
I will be updating this post with all new products I will find and posting more about Toffy (our golden / agouti Syrian hamster) & his Rotastak kingdom later on when he will be less camera shy.
If you have any doubts about feeding your hamster or any other hamster related questions, best join one of the forums where you can learn about hamsters, accessories etc. more than anywhere else, it will save you also lots of time and money if you check what others think before making any purchases.
For kids I would recommend this beautifully illustrated book that is packed with all hamster info you may need for start:
"The Really Useful Hamster Guide" by Lorraine Hill.
More hamster posts can be found here.