If you are looking for your new, favorite way to eat your porridge, you have found it!! You will never want to eat your oats any other way…
This is delicious, chocolatey (and sometimes coconuty) recipe for warm, comforting breakfast oats… perfect to brighten up any gloomy winter mornings.
It is gluten-free recipe that can be easily transformed into dairy-free and sugar-free as well.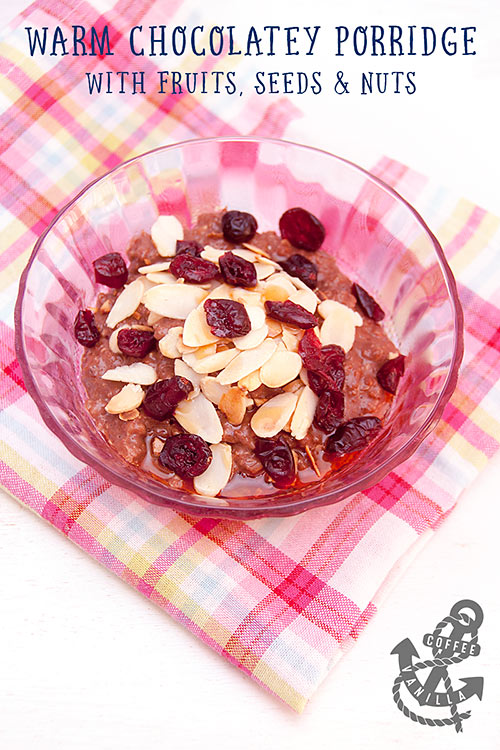 INGREDIENTS
a bit less than 1 cup of boiling water
splash of whole milk
½ cup of rolled oats
1 heaped tsp of unsweetened cocoa powder
sugar, honey or syrup (agave, maple etc.) – to taste
seeds (I usually use sunflower seeds for kids and flax / line seeds for myself)
dried fruits (cranberries or raisins)
nuts (almond flakes, chopped hazelnuts or coconut shavings)
METHOD
Combine oats, cocoa powder and boiling water and cook your usual way, on the stove top or in microwave, if you have to.
Add splash of milk and sugar or syrup.
Top with seeds, fruits and nuts.
Stir and enjoy while still hot.
Serves 1.
NOTES
For dairy free option skip the splash of milk and use almond of coconut milk instead of water to cook the oats.
Warm oatmeal recipes: Sugar-Free Pumpkin Seed & Cranberry Breakfast Porridge, Spiced Oatmeal with Pecans and Cinnamon, Sugar Free Almond & Sultana Breakfast Oatmeal or Winter Breakfast Oats with Walnuts.
Cold / overnight oats recipe: Almond & Apple Overnight Oats with Hint of Coconut
Granola recipes: Sugar Free Sunflower Seed & Apple Granola with Honey, Kate's Nutty Chocolate Granola, Homemade Maple Syrup Granola with Pecans, Cashews and Brazils, Elizabeth's S'mores Granola Clusters or Sugar-free Acacia Honey & Almond Granola.
Looking for even more chocolate breakfat recipes? Why not try Camilla's 3 Ingredient Banana Nutella Pancakes, Waffles with Nutella & Blueberries, Helen's Vegan Banana Mocha Pick-me-up Shake, Banana Pancakes with Chocolate Sauce, Helen's Yummy Mummy Bars, Dark Chocolate Muffins with a Surprise Inside, Choclette's Nutella French Toast, Pear, Pecan and Dark Chocolate Muffins, Choclette's Spiced Kefir Pancakes with Manuka Honey and Crème Fraîche Chocolate Sauce, Dark Chocolate and Apple Muffins or Banana Chocolate Chip Muffins we made earlier.
More breakfast recipes.