INGREDIENTS
for banana filling
4 ripe but still firm bananas – about 700 g (halved lengthwise)
2 tsp vanilla sugar
15g unsalted butter
for chocolate sauce
100g dark chocolate bar
25g unsalted butter
3 tbs milk
for the pancakes
2 cups self rising flour
2½ cups milk
3 eggs
olive oil to brush the frying pan
vanilla ice cream to serve
EQUIPMENT
medium size non-stick frying pan
silicone brush
large whisk
small sauce pan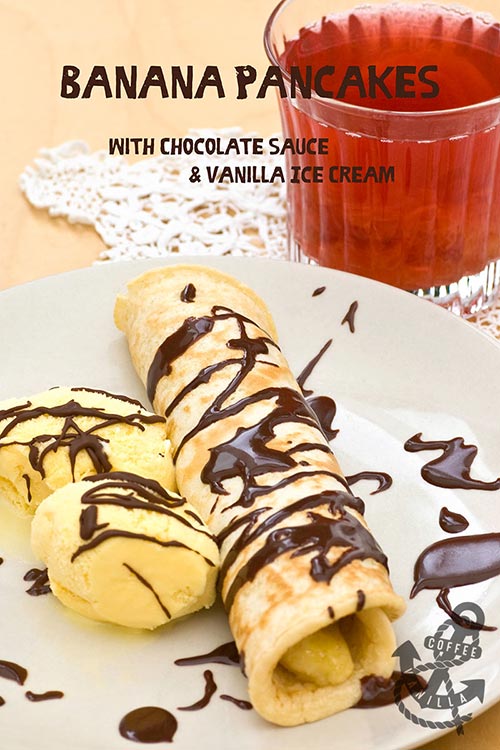 METHOD
Beat eggs lightly, stir in milk and flour, mix well with a whisk.
Pour about 125 ml of pancake mixture on hot, brushed with oil frying pan.
Fry over medium fire on both sides until golden, leave aside.
Repeat the same until pancake mixture is finished.
In meantime in a small sauce pan place chocolate bar, milk and butter and heat over low fire until melted, leave aside.
On the same frying pan you were frying pancakes melt the butter, place halved bananas, sprinkle them with vanilla sugar and fry on both sides until they are starting to get brown.
Place half of fried banana in each pancake and roll them.
Serve to the plates with some vanilla ice cream on a side.
Drizzle with chocolate sauce and serve immediately.
Makes 8 pancakes, serves 4 – 8 people.
NOTES
Pancakes taste good served with some Polish Plum Compote on a side.
Banana pancakes are very fast and versatile dish. Pancakes can be prepared in advance or even bought ready.
If you skip the ice cream you can even serve them for breakfast.