["coconut masala mixture" adapted from Zlamushka's Spicy Kitchen]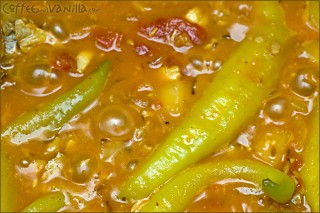 INGREDIENTS
for coconut masala mixture
6 tbs grated coconut
1 tsp cumin seeds
1 tsp fennel seeds
1 tbs ground coriander
2 pinches Cayenne pepper or other chilli powder to taste
1 tsp turmeric / curcuma
1 tsp garam masala powder
4 tbs of cold water
for curry

6 tbs Carotino oil
3 medium onions – 600g (finely sliced)
700g potatoes (cubed, small pieces)
400g tin of plum tomatoes
10 small sweet banana peppers / Hungarian wax – 300g
600g smoked Coley fillet (skin removed, teared into few pieces)
2 tbs lemon / lime juice
600ml hot water
handful of freshly chopped coriander leaves to serve
salt to taste
green chilli pepper (chopped) – optional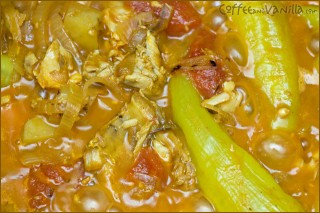 EQUIPMENT
large wide pot or wok
METHOD
Prepare "coconut masala mixture" combining all ingredients in a small bowl, and stirring it well.
Leave aside.
To make curry heat the oil, add onions and let them fry until golden.
Add "coconut masala" and potatoes and fry for about 5 minutes stirring from time to time. Then add water and the rest of ingredients except coriander. Before placing peppers in the pot, cut of the stems and remove insides, but keep peppers whole, don't cut them. Cook some more until gravy is thicker.
Serve with rice on a side.
Serve 5-6 people.
Original "Coconut Masala" by Zlamushka can be found here.
Taste even better next day or reheated after couple of hours.
I did not use green chilli pepper becasue of kids, but it was still delicious.