[recipe adapted from Eatingclub Vancouver]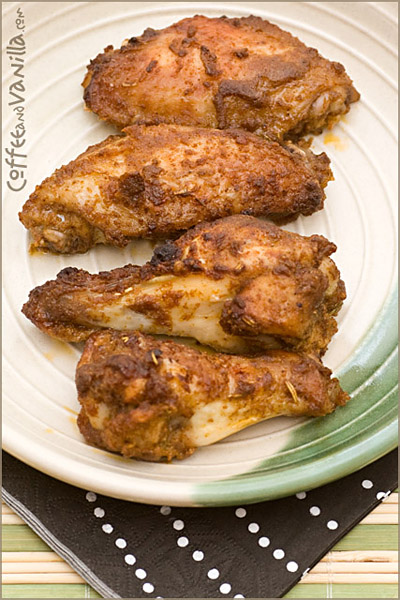 INGREDIENTS
1½ kg chicken wings (divided into 3 parts)
juice of 1 lime
1 tbs garlic puree
1 tbs Adobo seasoning
1 tbs Chinese Five Spice seasoning (with no added salt)
2 tsp tbs paprika powder
1 tsp Tabasco sauce
2 tbs onion granules
2 tsp dried rosemary
2 tbs olive oil or Carotino oil
EQUIPMENT
large roasting tray
non-stick Teflon sheet
METHOD
Place chicken in a container that it will be marinading. Pour over lime juice and mix well, rinse and drain after 15-20 minutes. Add garlic puree, Adobe, Five Spice, paprika, Tabasco, onion granules, rosemary and oil. Stir, cover and marinade over night in the fridge.
Next day preheat oven to 180°C (356°F), place chicken wings with marinade on baking tray lined with non-stick sheets. Bake until soft inside and crispy on outside.
Serve with roasted potatoes or pasta and some salad on a side.
Serve 4 people.