[inspired by A Life (Time) of Cooking]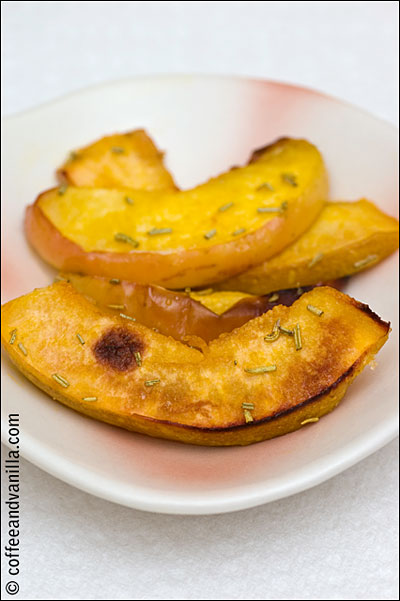 INGREDIENTS
1kg firm apples such as Janagold, optionally quinces or pears (cored, cut into ½ thick slices)
3 tbs Carotino oil
1 tsp Tabasco sauce
2-3 tbs golden caster sugar
1½ tbs dried rosemary or some fresh one
juice of ½ lime – optional
EQUIPMENT
large roasting tray
non-stick Teflon sheet
large mixing bowl
METHOD
Preheat oven to 180°C (356°F), if you have possibility turn on also grill.
In a mixing bowl combine apples, oil, Tabasco, sugar, rosemary and optionally lime juice, mix well.
Transfer apples to the tray covered with Teflon sheet and place in the oven.
Roast for about 15 minutes.
Serve 4-6 people as a side dish.