[recipe by Ala – my mother]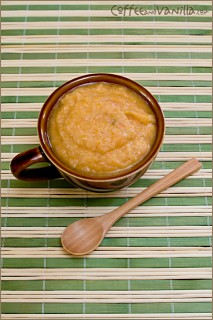 INGREDIENTS
about 600g fresh sutchi catfish fillets (defrosted if frozen)
2 courgettes / zucchinis (sliced coarsely)
1 small cauliflower (divided into florets)
4 medium carrots (chopped coarsely)
handful of fresh or frozen parsley (chopped)
2 small onions (wedges)
4 large tomatoes (wedges)
2 vegetable cubes (10g each)
3 tbs olive oil
METHOD
Place all vegetables, crushed cubes and olive oil in a large, wide pot and simmer covered over small fire for about 15-20 minutes. Then add fish and cook for another 15 minutes, trying not to stir too much.
Serve with rice, potatoes or what ever you like.
For children you can also blend the stew like on the picture.
Serve 4 people.
Sutchi catfish is also called iridescent shark, Siamese shark, basa or panga (in Poland). It can be replaced with any white fish.