[adapted from Whitworths tapioca package]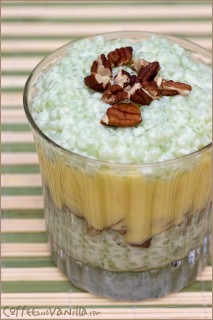 INGREDIENTS
100g small tapioca pearls (I used plain white ones)
1 tsp green food colouring – optional
1200 ml semi-skimmed milk
½ cup golden caster sugar
1 tbs vanilla sugar
600g ready custard
4 medium bananas – about 600g (sliced)
100g pecan nuts
200 ml Crème Fraîche or soured cream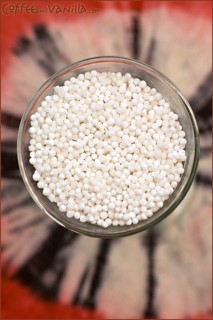 METHOD
Place tapioca, milk and sugars in non stick pot and cook over low fire for about 40 minutes stirring constantly. After 20 minutes add food colouring. Stir well and continue cooking unitl tapioca pearls are completely transparent and soft. Leave it aside to cool down completely.
Combine custard with sliced bananas and place in the fridge till needed.
Toast pecans on frying pan for couple of minutes until fragrant and crispy. Chop them and leave aside as well.
Tapioca should be cooled down by that time, mix it with Crème Fraîche.
Prepare 6 serving glasses, pour in each some tapioca, then share pecans to the glasses (leave some aside for decoration), top pecans with banana custard mixture and then with the rest of tapioca. Decorate with saved pecans. Place in the fridge for at least 30 minutes, then serve.
Make 6 large servings.