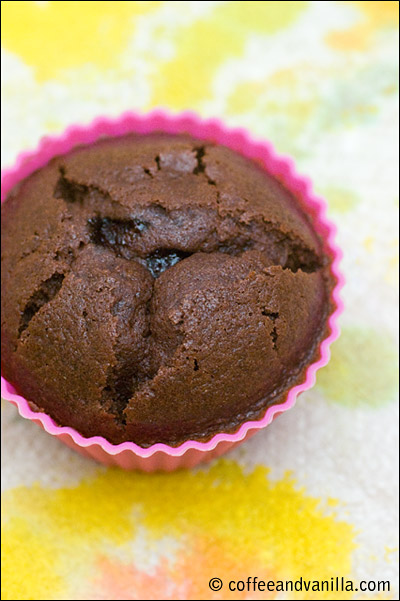 INGREDIENTS
2 cups plain flour
2½ cups golden caster sugar
¾ cup unsweetened cocoa powder
1 tbs baking soda
1 tsp salt
¾ cup vegetable oil, neutral one that does not have strong taste or smell, like canola, sweet almond or Carotino oil
1 cup soured cream
1½ cups water
2 tbs white vinegar (I used rice vinegar)
2 eggs
½ cup jam / marmalade for filling (I used home-made black currant marmalade but raspberry or cherry jam would be very good too)
EQUIPMENT
muffin / baking trays lined with 24 silicone or paper muffin cases
METHOD
Preheat oven to 170°C (338°F).
In meantime combine together flour, sugar, cocoa, baking soda, salt and mix together with the whisk.
Add oil, eggs and soured cream, whisk until well blended. Add also vinegar.
Pour half of the batter into muffin cases, top each with about ½ tsp a little bit more of jam / marmalade and then pour over the rest of chocolate batter into each muffin case.
Bake for about 35 minutes, remove from the oven and let them cool down completely before serving.
Makes 24 muffins.
NOTES
Background made of paper kitchen towel painted by my 4 year old daughter.