This is a bit fancier version of our Very Fluffy Pecan & Vanilla Coffee Cake, made with walnuts instead of pecans and additional layer of delicious buttercream.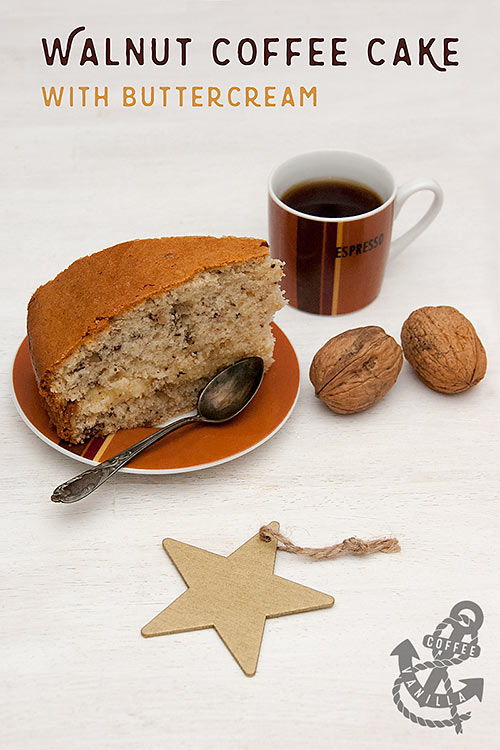 INGREDIENTS
for the cake
2½ cups plain flour
125 g / half a bar butter (melted)
1½ cups golden caster sugar
3 large – 4 smaller eggs
1 cup of milk
1 tbs baking powder
150 g walnuts (chopped)
for the buttercream filling
125 g / half a bar butter (softened)
½ cups icing sugar
instant coffee (about ½ tsp) dissolved in very little (1 tsp) of hot water or some other flavoring that will go well with walnuts, for instance: vanilla extract or rum extract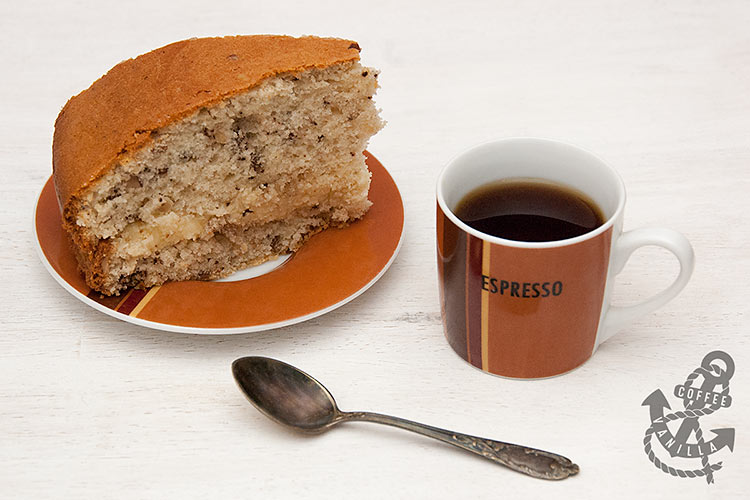 EQUIPMENT
mixer
silicone pastry brush
1 round spring tin with removable base (lined with baking paper)
wooden skewer
microwavable jug or small pot
sharp knife or strong thread to slice the cake in half
METHOD
Place butter bar in a jug and microwave for about 50 seconds, until completely melted. Alternatively melt it in the pot over low fire.
With a pastry brush grease baking tray, using a bit of melted butter, leave aside.
In a mixer bowl combine all dry ingredients: flour, vanilla seeds, sugar and baking powder.
Add also milk and eggs and turn the mixer on.
Gradually pour in melted butter and mix a while longer.
Stir in walnuts and transfer batter to the baking tin.
Bake in the the oven preheated to 180°C  (356°F) for about an hour.
Let the cake to cool down before cutting it into two layers.
In meantime prepare the buttercream by whisking all of the ingredients together.
Once the cake is cooled down, spread buttercream on the bottom layer and put back the top layer.
Place in a fridge for at least 30 minutes before sharing.
Makes about 12 – 16 servings.
NOTES
This cake taste great with some espresso (aka mini coffee according to my 5 year old) on a side.
If you are looking for more yummy cake ideas, check out Jo's Farmhouse Fruit Cake, Jeanne's Gingerbread Spice Persimmon Cake or Binut's Marmalade Coconut Semolina Cake.
For more walnut recipes, take a look at Cheddar and Walnut Muffins, Walnut Keks – Traditional Polish Tea Cake, Celeriac with Beets, Raisins and Walnuts aka Pink Waldorf Salad, Decadent Red Velvet Brownies with Walnuts, Coconut Banana Cake with Walnuts & Orange Juice or Grandma Nina's Pischinger – Traditional Polish Wafer Dessert.