Pischinger is one of those desserts that accompanied my entire childhood. My granny would often make it around Christmas and New Year season. Strangely walnut and coffee pischingers were my favourite, even though I was a child at the time.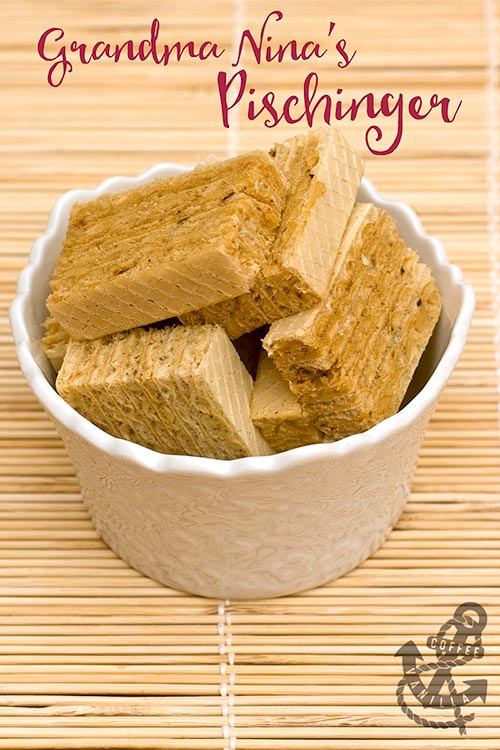 INGREDIENTS
250 g unsalted butter – 1 bar (chopped)
¾ cup golden caster sugar
5 egg yolks
3 tbs vanilla sugar
3 tbs vodka or even better some stronger not flavoured spirit
pack of wafers (I used 23 cm / 9 inches round wafers, about 9 layers or about 7 layers of rectangular 23 cm / 9.5 inches x
29 cm / 11.5 inches wafers)
2 – 3 tsp instant coffee / 200 g walnuts / some lemon juice / few tbs cocoa powder (depending on which flavour you choose)
METHOD
Cream butter, sugar, yolks, vanilla sugar till smooth and fluffy, add vodka and ingredients for the flavour.
When the cream is ready, spread it on first layer of wafer, cover with another one, repeat the same till you have only one more left to cover the top.
Wrap wafer cake with a cling film, leave aside for 3 hours covering it with a book or some other heavy item.
After 3 hours you can cut cake into pieces.
Store in the fridge.
for Coffee Pischineger (my personal favourite)
Dissolve 2 – 3 tsp of instant coffee it in a little bit of hot water before adding to the cream.
for Walnut Pischinger
Ground 200 g walnuts before adding them to the cream. If cream is too thick and not fluffy and a little bit of water and whisk some more.
for Lemon Pischinger
Just add lemon juice to taste.
for Chocolate Pischinger
Add about 2 tbs cocoa powder, you may also need to add a little bit of water to make cream more fluffy.
NOTES
From leftover egg whites you can make: Poppy Seed Muffins or Brudas – My Mother's Poppy Seed Cake.
More international dessert ideas: South African peppermint tart by Jeanne of Cook Sister, Kolač sa makom – Serbian poppy seed cake from Tina's Cookings, Tamarind balls made in Dominica, Indian gajar ka halwa (carrot pudding) by Kate of Aapplemint, Beijinho de côco (coconut balls) by Cynthia Presser, Malaysian pineapple tarts by Lin of Lin's Food and Polvorosas (Colombian butter and sugar cookies) from My Colombian Recipes.
This is my entry for Game Night Party event hosted by Mansi from Fun and Food. I made it recently during Xmas time… it is very easy, fast to prepare and delicious (especially the coffee version), ideal recipe for parties.
I'm also submitting this to the Inheritance Recipes challenge that we have started together with Solange of Pebble Soup. This month theme is Festive Foods so this Polish desserts fits in perfectly. If you haven't done it yet, please come and join us, share your inherited recipes with us!