[recipe adapted from BBC Food, originally by Gordon Ramsay]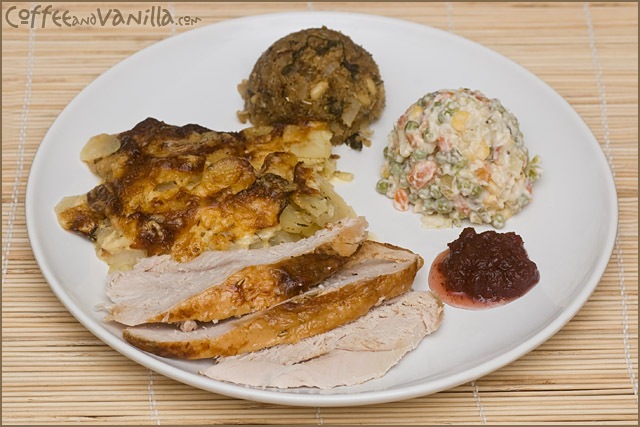 INGREDIENTS
for Herb Butter Turkey
5-6 kg medium sized turkey
1 bar (250g) unsalted butter (softened)
1½ tbs garlic granules
1 tbs dried thyme or some frozen thyme
1 tbs smoked paprika gravy
1 tbs dried rosemary
1 tsp sea salt
1 pinch of ground black pepper
for Onion, Lemon and Pine Nut Stuffing
2 cups white breadcrumbs
1 bar (250g) unsalted butter
2 onions (finely chopped)
2 tsp dried thyme
2 tsp dried rosemary
1 tbs dried sage
zest from 1 unwaxed lemon
½ cup pine nuts
4 tbs fresh / frozen parsley (chopped)
1 tsp sea salt
rainbow peppercorns
for Creamy Onion & Thyme Gravy
1 onion (finely chopped)
2 tbs olive oil
1 tsp rice vinegar
125 ml (½ cup) water
1 bay leaf
500ml (2 cups) chicken stock or 3 cups boiling water + 1½ chicken cubes
200ml double cream
rainbow peppercorns
1 tbs dried thyme
EQUIPMENT
large roasting tin
aluminum foil
METHOD
Preheat oven to 180°C (356°F).
Prepare herb butter mixing all ingredients to form a paste.
Lift up the breast skin and separate it from the flesh with your fingers. Rub the whole butter into the breast.
Place turkey on a large roasting tin with roasting rack inside. Cover with aluminum foil and place in the oven.
Bake for 3½-4 hours pouring over the turkey pan juices from roasting every 30 minutes. You can remove aluminium foil at the end of baking.
In meantime prepare stuffing.
Melt butter in a large frying pan, fry onions and for couple of minutes until soft. Add dried herbs and fry some more. Then add breadcrumbs and let them absorb the butter. At the end add zest and pine nuts. Season with salt and freshly ground pepper. Fry few more minutes. Stir in parsley, turn off the fire.
To prepare gravy fry onion in a large frying pan on olive oil for 5 minutes. Add rice vinegar and water, thyme and bay leaf, cook till there is almost no liquid. Add stock and boil until reduced by half. Stir in cream and cook couple more minutes. Season with freshly ground pepper.
When turkey is ready cut out slices of breast, serve to the plates with some stuffing on the side. Pour gravy over the turkey.
Make 8 servings from breast plus many more from legs (enough for next day Leftover Turkey Stew).