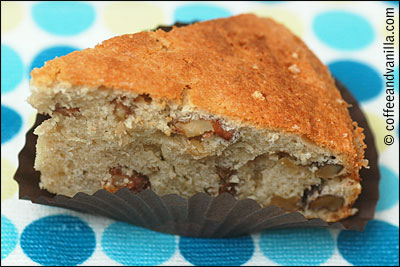 INGREDIENTS
1½ cups plain flour (250g)
1 bar (250g) unsalted butter (chopped and softened)
1¾ cup icing sugar (250g)
2 cups of walnuts (250g)
5-6 eggs (I used 6 small ones)
1 tbs vanilla extract
1 tbs 95% rectified spirit – optional
1½ tsp / ½ tbs baking powder
+ 2 tsp of butter to grease the tin
EQUIPMENT
9" (22,8 cm) round non stick cake tin with removable bottom
circle cut out from baking / parchment paper
wooden skewer
mixer
METHOD
Preheat the over to 170°C (338°F).
Butter the tins with unsalted butter, place baking paper on the bottom of the tin and also butter it.
Beat the egg whites until stiff and leave aside.
In a mixer bowl place butter and icing sugar and beat until smooth.
Add egg yolks and vanilla extract and mix a bit more.
Then stir in flour mixed with baking powder.
Towards the end add rectified spirit and mix until smooth.
Stop the mixer, add walnuts and egg whites, stir with a spoon until well combined.
Pour the dough into buttered tin and bake for about 50 minutes. Check with the skewer if the middle of the cake is ready.
If you can resist let the cake cool down completely before trying to share it… we couldn't.
Make 10-12 servings.
NOTES
This cake taste even better next day, store it wrapped in aluminium foil or air tight container in the fridge.
Keks is often served during Christmas season but not only.
The more common version of Keks contains raisins, candied cherries, candied orange peel, angelica, dried apricots etc. instead of walnuts…
The rectified spirit is optional, I'm not really sure what it does but many traditional recipes call for it. I had it on hand (brought from Poland) so I used it but the cake should be yummy without it as well.
Traditionally keks is made in bread loaf tins.